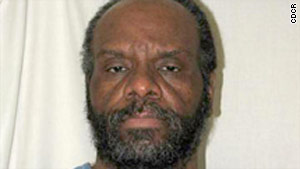 Albert Greenwood Brown was sentenced to die for the rape and murder of a California high school student.
STORY HIGHLIGHTS
NEW: Albert Brown's execution taken off calendar while court reviews lethal injection protocol
Albert Greenwood Brown's execution would have been the first in four years
California has revised its lethal injection procedure since its last execution
Brown was sentenced to death in 1982 for the rape and murder of a teenager
(CNN) -- The execution of a convicted rapist-murderer in California has been called off after rulings in state and federal courts, officials said Wednesday.
The California Department of Corrections and Rehabilitation removed Albert Greenwood Brown's execution from its calendar on Wednesday, a few hours after the California Supreme Court denied the state's request to proceed with the scheduled execution on Thursday night.
The state filed the request early Wednesday, after a federal court judge blocked Brown's execution Tuesday night. The execution would have been California's first since 2006, when challenges to the constitutionality of lethal injection forced the state to revise its measures.
The state had argued that unless the court allowed the execution to go forward, it would not be able to execute Brown until 2011 because its supply of the drug used to induce unconsciousness was going to expire on Friday.
The high court said the reasoning was not compelling enough to remove obstacles to the execution, especially given that a separate challenge of the state's protocol for lethal injection remains pending.
The action comes after a week of furious legal maneuvering over Brown's execution for raping and murdering high school student Susan Jordan in 1980.
The 15-year-old was walking to Arlington High School in Riverside when Brown pulled her into an orange grove, according to court documents.
He raped her, strangled her with her own shoelace, and took her school identification cards and books.
Later that evening, Brown looked up her family in the phone book and called their home, court documents say.
"Hello, Mrs. Jordan, Susie isn't home from school yet, is she?" court documents quoted him as saying. "You will never see your daughter again. You can find her body on the corner of Victoria and Gibson."
During the penalty phase of Brown's trial, his lawyer said his client was remorseful. He also presented psychiatric evidence suggesting that Brown had emotional problems, including sexual maladjustment and dysfunction.
The jury deliberated for three hours before returning a death penalty verdict, according to court documents.
A review that began in 2006 of California's lethal injection protocol implemented a de facto moratorium on executions in the state until August 29, when new regulations took effect.
At the time, a Riverside County Superior Court judge set Brown's execution for September 29. Since then, his lawyers have challenged the execution in state and federal courts, arguing that no executions should be carried out in the state until the court reviews the new protocol.
Meanwhile, the cases that had spurred the review of California's lethal injection procedures remained in limbo, prompting Gov. Arnold Schwarzenegger to grant Brown a temporary reprieve of execution until September 30 to allow the courts time to review the other cases.
Last week, U.S. District Judge Jeremy Fogel ruled that Brown's execution could go forward and gave Brown the option of choosing between a one-drug or a three-drug option for his lethal injection.
On Monday, the Ninth Circuit Court of Appeals ordered Fogel to rethink that decision and review whether California's new lethal injection procedures protect an inmate from a cruel and inhumane death.
"The district court's decision to provide Brown the choice of a one-drug option is not consistent with California state law and procedures," the appeals court ruling said. "California law does not provide the condemned a choice between a three-drug protocol or a one-drug option."
Fogel said it would be impossible to complete that review before Brown's execution date. Moreover, he noted that it was not in the best interest of justice to expedite his decision in light of the state's revelation that its supply of sodium thiopental -- the drug used to induce unconsciousness -- will expire on Friday.
In its ruling Wednesday, the California Supreme Court echoed Brown's sentiments.
"By choosing an execution date for Brown of September 29, 2010, with presumptive knowledge that it faced the imminent loss of an essential ingredient to the execution on October 1, 2010, the state has itself contributed to circumstances incompatible with the orderly resolution, pursuant to normal procedures, of pending legal issues," the justices wrote.
California's last execution was on January 17, 2006, when Clarence Ray Allen was put to death for three counts of first-degree murder with special circumstances. From behind bars, he had helped orchestrate a deadly armed robbery at a convenience store.
CNN's Tom Laabs contributed to this report.
FOLLOW THIS TOPIC