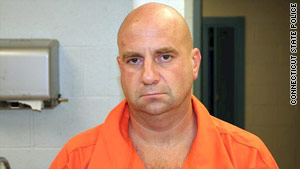 Steven Hayes is accused of killing three members of a Connecticut family in a 2007 home invasion.
STORY HIGHLIGHTS
Fire patterns said to show an accelerant was used
Hayes is on trial for the murder of a mother and two of her daughters
He has been a convicted felon since 1980, his records show
He has pleaded not guilty
New Haven, Connecticut (CNN) -- An accelerant appears to have been poured on or near two girls as they lay tied up in their beds in their Connecticut home when home invaders set it afire more than three years ago, an investigator told jurors Friday.
"There is a very clear depiction of an unusual burn pattern . . . from the hallway and it follows a path along the carpet up to the side and the top of Michaela Petit's bed," Connecticut State Police Det. Paul Makuc (MAY-cook) testified at the trial of Steven Hayes, one of two men charged with capital murder in the July 23, 2007, killings of the girls and their mother.
Michaela Petit, 11, and her sister Hayley, 17, died of smoke inhalation after their family's home was set afire, investigators said. Their mother, 48-year-old Jennifer Hawke-Petit, died of strangulation.
Hayes told police that both girls were tied to their beds, according to a police report.
Referring to a photograph of Michaela Petit's body in her bedroom, Makuc pointed out what he said was evidence that an accelerant had been poured over the girl.
"I have determined this to be a pour pattern of an accelerant or an ignitable liquid," he said.

Video: Deadly home invasion

Video: Jury moved to tears

Video: Dad recounts fatal attack on family
In testimony Wednesday, Medical Examiner Dr. Wayne Carver said Michaela's burns may have occurred while she was alive.
Referring to a photograph of the elder sister's bedroom, Makuc said the fire pattern indicated another irregular burn pattern, "much as I observed in Michaela's bedroom."
Yet another photograph showed the mattress, which had been consumed. "Fire would not burn in that area without the presence of ignitable liquid," he said.
One photograph showed that restraints found in her bedroom had burned through, and her body was discovered laying face down in the hallway at the top of the stairs. She had suffered burns to her front, the medical examiner told jurors on Thursday.
John Schienman, a state forensic scientist specializing in DNA analysis, cited evidence he said linked Hayes and his alleged accomplice, Joshua Komisarjevsky, with the victims: a blood stain on a bat was Petit's; Hayes' DNA was found on a vaginal swab taken from Hawke-Petit; Komisarjevsky's DNA was found on an anal swab taken from Michaela, according to Schienman.
Jeremiah Donovan, Komisarjevsky's public defender, told reporters that his client did not anally rape Michaela, but instead ejaculated on her.
He said outside the courthouse that he was telling the news media because he is not allowed to speak directly with the family.
He added that his client's trial is not scheduled soon and he did not want the victim's family to be under any misimpressions about the nature of the assault. "I know this is small solace, but it's just something that I felt that I had to say," he said.
Donovan said Komisarjevsky, 30, has offered to plead guilty if spared the death penalty.
Hayes, 47, has entered a plea of not guilty. His eight-page criminal report, obtained by CNN, shows a long history of burglary, larceny, drug possession and forgery.
His first arrest came at age 17 on April 25, 1980. He was charged with third-degree burglary and served 18 months probation for that crime. Since then, he has racked up nearly 60 criminal counts -- more than 10 of them for burglary, the records show.
He was charged with third-degree burglary in 2003 and sentenced to five years in prison, but he only served three of those years. In 2006, Hayes was released to a halfway house, where he met Komisarjevsky.
The two men broke into the house of Dr. William Petit and his family before dawn in the quiet New Haven suburb of Cheshire, beat him with a baseball bat, then ordered his wife to go to a nearby bank, where she withdrew $15,000, investigators have testified.
Petit's wife was raped and killed, his two daughters were tied to their beds, Michaela was raped and the home was set afire before the two men fled, according to police.
Petit, an endocrinologist, escaped from his bonds and fled to a neighbor's home. The men were captured in the family's vehicle.
Hayes is charged with capital murder, kidnapping, sexual assault, burglary and arson. He could face the death penalty if convicted.
Public defender Thomas Ullmann conceded in his opening statement that Hayes killed Hawke-Petit but said that, otherwise, much of what happened is unclear.
"No one was supposed to be hurt," he said. "What is known is that Steven Hayes kills and assaults Mrs. Petit. ... We concede much, but not all."
In a police interview, Hayes said that, before the incident, his life "sucked and that he had no money, no car, and not enough to eat."
Testimony in the case is to resume Tuesday.
In Session's Nancy Leung, Swetha Iyengar and Michael Christian contributed to this story.
FOLLOW THIS TOPIC