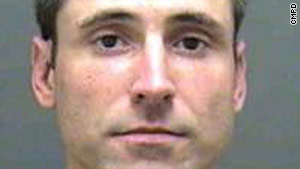 Warrants have been issued for murder and auto theft charges for Michael Neal Harvey.
STORY HIGHLIGHTS
NEW: Autopsy finds no sign of physical trauma
NEW: Drugs were involved and suspect concealed body, police say
Michael Neal Harvey claims he did not kill 23-year-old Valerie Hamilton
Hamilton, daughter of a North Carolina police chief, was buried Tuesday
(CNN) -- Saying they found evidence of drug use, police alleged Tuesday that a registered sex offender failed to get medical attention for the daughter of a North Carolina police chief and concealed her death.
The announcement from the Charlotte-Mecklenburg Police Department on Tuesday afternoon was the latest twist in the investigation into the death of Valerie Hamilton, 23.
On Wednesday, Hamilton voluntarily left the Thomas Street Tavern in Charlotte with Michael Neal Harvey, 34, according to the statement.
"Homicide detectives interviewed many witnesses that observed Ms. Hamilton in the presence of the suspect. Homicide detectives found evidence of drug usage," police said. "Witnesses indicate although alive, she appeared to need immediate medical attention. The suspect did not seek professional medical attention for Ms. Hamilton after being prompted by several independent witnesses to do so."

Video: Town mourns chief's daughter

Video: Arrest made in murder

Video: Police chief on daughter's death
Harvey, who was arrested Monday in Niagara Falls, New York, waived extradition Tuesday and said the case was not a murder. He said Hamilton died of an overdose in her sleep.
Warrants for Harvey were issued on murder and auto theft charges, police said Monday.
Preliminary results of an autopsy by the medical examiner did not indicate any obvious signs of physical trauma to Hamilton's body, police said. Detectives await results regarding toxicology and the sexual assault examination kit.
"Detectives believe the suspect moved Ms. Hamilton in an effort to conceal her death and made great efforts to clean up any potential crime scenes before he disposed of her body," the police statement said. "Homicide detectives continue to aggressively investigate this case to ensure that appropriate charges are filed."
Hamilton was laid to rest Tuesday after a funeral in Concord, North Carolina. A candlelight vigil drew hundreds of people Monday night.
Harvey was found in a house in Niagara Falls, Charlotte-Mecklenburg Police Chief Rodney Monroe said. The town was one of the places authorities thought he might flee, because he has relatives there, Monroe said Monday.
A stolen 1996 Chevy Blazer that police said Harvey was last seen driving also was recovered in Niagara Falls, Charlotte-Mecklenburg police said.
Earlier Monday, Hamilton's father, Merl Hamilton -- the chief of police in Concord, about 30 miles northeast of Charlotte -- issued a tearful plea on "Good Morning America" for help locating the suspect.
"I just want to get this guy now," he said.
Valerie Hamilton, who lived in Charlotte, was last seen between 12:30 and 1:30 a.m. Wednesday at the Thomas Street Tavern with a man believed to be Harvey.
Her friends and family became concerned when she failed to show up at the Little Otter Swim School, where she worked as a children's swim coach, according to CNN affiliate WSOC.
"It's not like her not to show up and let us know," her boss, John Kirk, told the station. He described Valerie Hamilton as "one of those bright, shining people that a kid can't cry around."
After several days of searches, Valerie Hamilton's body was found in a Charlotte storage unit late Saturday.
Monroe said repeated witness interviews and "very aggressive investigation" led authorities to the storage unit. He said the cause and manner of death was not immediately known.
When a reporter from CNN affiliate WVIB in Buffalo, New York, approached Harvey's relatives over the weekend, they refused to go on camera.
"He hasn't been here in six years," an unidentified man told the station. "Leave. That's my comment."
Harvey is a registered sex offender with a 1996 first-degree sex offense conviction from New York, according to the state sex offender registry website. WIVB and the Charlotte Observer newspaper reported that he had served time in prison. He also has a lengthy police record in North Carolina, including drug and weapons charges, Charlotte-Mecklenburg police spokeswoman Rosalyn Harrington said.
Asked to describe his daughter, Merl Hamilton said, "She was a good kid. She was a wonderful kid. She lived her life to take care of children. That's all she wanted to do. She was the perfect daughter, and I miss her, and I need justice for her, and I need folks to be looking for this guy."
CNN's Ashley Hayes contributed to this report.
FOLLOW THIS TOPIC