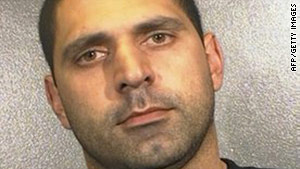 Elias Abuelazam was arrested August 11 at Hartsfield-Jackson Atlanta International Airport.
STORY HIGHLIGHTS
NEW: The serial stabbing suspect was back in court Monday
NEW: He faces five new charges, including murder
Elias Abuelazam is suspected of stabbing 18 people
(CNN) -- Suspected serial stabber Elias Abuelazam, jailed in Michigan, was arraigned Monday on five new charges, a defense lawyer said.
Brian Morley said his client was charged with one count of murder and four counts of assault with intent to commit murder, bringing the total number of charges against Abuelazam to six. Previously, he was charged with a single count of assault with intent to commit murder.
Abuelazam is suspected of stabbing 18 victims in three states. Five people were killed in the attacks in May through August.
Morley said he had expected the additional charges and is hopeful they will be the last.
"Now it's time to start the legal work," he said.
Genesee County Prosecutor David Leyton did not immediately return a call seeking comment Monday. An attorney in his office confirmed the additional five charges.
Morley is representing Abuelazam together with Edwar Zeineh, who said over the weekend he had been provided with very little pretrial evidence. Morley said the defense team was given five discs of discovery evidence Monday.
"I've not seen a murder weapon, not seen evidence of DNA [linking Abuelazam to the crimes], not seen any evidence of motive," Zeineh had said.
"While I hold the police and prosecutor in high regard, I'm concerned I'm not getting all the evidence police have. It's slow coming. I would have expected more by now," he added.
Abuelazam is trying to help with his own defense.
"His spirits are high, he has confidence in his counsel, and the American judicial system," Zeineh said.
Abuelazam has been able to talk with his mother, who lives in Israel.
"After that conversation, he now has a sense of strength and courage," Zeineh said.
Abuelazam was arrested August 11 at Atlanta, Georgia's Hartsfield-Jackson International Airport. He was trying to board a flight to Israel when he was taken into custody, police said.
If convicted in Michigan, Abuelazam could face life in prison without parole. The state does not have the death penalty.
Authorities had Abuelazam in custody twice in a two-week stretch, both within hours of when stabbings were reported, but he was released. Police said he had not been linked to the attacks at the time.
Abuelazam was arrested August 5 after a traffic stop and July 29 for allegedly providing alcohol to a minor. He was fined $125 in July.
In the traffic stop arrest, in Arlington, Virginia, police arrested Abuelazam after learning he had an outstanding warrant for assault. A knife and hammer were found in his car.
Authorities now believe both weapons were used in the string of stabbings. One of the attacks took place in Virginia hours after Abuelazam was released.
Most of the stabbing victims were African-American. Federal officials have not provided a motive for the attacks, but Leesburg, Virginia, Police Chief Joseph Price has said he believed the attacker was targeting African-Americans.
Abuelazam is believed responsible for three attacks in Leesburg, the stabbing deaths of five people and the wounding of nine others in Flint and a stabbing that wounded a man in Toledo, Ohio, authorities have said.
One of Abuelazam's alleged victims, Richard Booker of Flint, Michigan, talked with CNN last month about being attacked.
Booker recalled he had gone for a walk to the store, and encountered a man who asked him to help him get his truck hood open. As he was doing so, the man grabbed him from behind, he said.
"He had a Bowie knife ... he tried to gut me or something," Booker said.
"He stuck me, fell on top of me," he said. He said the man wounded him on his arm and "tried to stab me in the face and throat. I punched him in the nose and he kind of got off me a little bit."
Booker managed to escape and make it home, where he passed out on his porch. He said he lost six pints of blood by the time he got to the porch.
His attacker, he said, is a "stone-cold maniac killer."
FOLLOW THIS TOPIC