Man pleads not guilty to funding activity linked to NY bombing attempt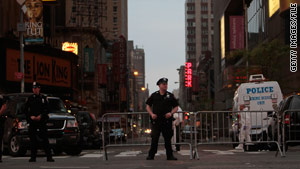 Police are on alert the morning after the May 1 car bombing attempt in New York's Times Square.
STORY HIGHLIGHTS
A Long Island man was indicted in a money case linked to the Times Square bombing attempt
The man operated a business transferring money, prosecutors said
Transfers were made between the U.S. and Pakistan
There are no allegations that the man was aware of the funds' use
New York (CNN) -- A Long Island, New York, man charged with facilitating a money transfer related to the May 1 attempted car bombing of New York City's Times Square pleaded not guilty in Manhattan federal court Wednesday, according to a court official.
Mohammad Younis, 44, was released on condition that he meet several bail requirements before his pre-trial hearing on September 22, including providing a $100,000 personal recognizance bond and submitting to pre-trial supervision. Younis must also give up his passport, the court official said.
Younis has been charged with operating an unlicensed money-transfer business that "allegedly facilitated" the bombing attempt, authorities said Wednesday.
An indictment filed by Preet Bharara, the U.S. attorney for the Southern District of New York, claims the business, called a hawala, carried out money transfers between the United States and Pakistan. In April, Younis provided money to Faisal Shahzad, who pleaded guilty to a 10-count indictment charging him with crimes relating to an attempt to carry out a car bombing in times Square. Shahzad said he got a cash payment to fund preparations for the bombing attempt.
"According to Shahzad, the April cash payment was arranged in Pakistan by associates of the Tehrik-e-Taliban, the militant extremist group based in Pakistan that trained Shahzad to make and use explosive devices," Bharara said in a statement.
No one has alleged that "Younis was aware of the intended use of the funds," authorities said.
Younis was arrested at his home Wednesday. He was charged with conducting an unlicensed money transmitting business and conspiracy to conduct an unlicensed money transmitting business.
He faces a maximum sentence of five years on each charge if he is convicted.
FOLLOW THIS TOPIC