Boston prosecutors to release 'Craigslist killer' file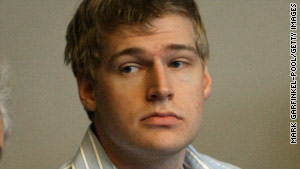 Accused "Craigslist killer" Philip Markoff killed himself in jail in August.
STORY HIGHLIGHTS
District attorney to file for dismissal after suspect Markoff's suicide
Prosecutors expect to release their file on Markoff "within the next few weeks"
The former medical student killed himself in jail August 15
(CNN) -- Prosecutors in Boston, Massachusetts, say they plan to release their files on accused "Craigslist killer" Philip Markoff, who killed himself in jail in August, after formally dropping the murder case against him Thursday.
The Suffolk County District Attorney's office said Wednesday it plans to file paperwork requesting a dismissal of their case Thursday morning. The case was short-circuited when Markoff took his own life August 15, but District Attorney Daniel Conley said at the time that the evidence against the suspect was "overwhelming."
Conley is slated to discuss the case with reporters Thursday morning after requesting the case be dropped, a move his office said will set the stage for the release of "all relevant documents" at an unspecified later date.
"Prosecutors are currently reviewing and redacting those documents and assembling the physical evidence," the district attorney's office said in a statement issued Wednesday. "We expect that it will be ready for media review within the next few weeks."
Markoff, 24, was a second-year student at Boston University's School of Medicine when arrested in April 2009 in the killing of Julissa Brisman, 25, at Boston's Copley Marriott Hotel. Police said that Brisman, a model, advertised as a masseuse on the online classifieds service Craigslist, and Markoff might have met her through the site.
Authorities said Markoff killed himself in his jail cell by cutting himself multiple times with a makeshift scalpel crafted from a pen and a piece of metal. In addition, a large, clear plastic bag of a type issued to inmates was fastened around his neck with a piece of gauze.
The name of his former fiancee, who called off their wedding after his arrest, was scrawled in what appeared to be blood on the wall of his cell when he was found, Conley told reporters at the time.
FOLLOW THIS TOPIC