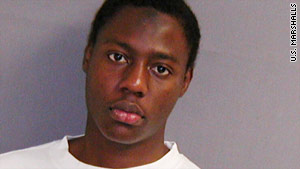 Umar Farouk AbdulMutallab told a federal court Monday that he wants to act as his own attorney.
STORY HIGHLIGHTS
Umar Farouk AbdulMutallab is charged with six counts
The charges include attempted use of a weapon of mass destruction
Judge Nancy Edmunds asked him a series of questions and appointed standby counsel
The next court date in the case is October 14
Detroit, Michigan (CNN) -- Umar Farouk AbdulMutallab, the man accused of trying to blow up a plane last Christmas, said in court Monday that he no longer wants to be represented by federal defenders and would act as his own attorney.
Judge Nancy Edmunds granted his request and appointed standby counsel for him. She also asked him a series of questions about his knowledge of law, the case and the charges he faces.
AbdulMutallab, the British-educated son of a Nigerian bank executive, is accused of trying to set off a bomb hidden in his underwear aboard a plane from Amsterdam, Netherlands, to Detroit, Michigan, on December 25.
Monday, he spoke softly but clearly about what he wanted.
"I prefer to represent myself," AbdulMutallab told the court. "I don't feel any representation I get would suit -- would represent me in a way that is in my best interest."
At various points during the roughly 30-minute proceeding, Edmunds pressed AbdulMutallab to explain the reasons behind his decision. She asked whether he had studied law or represented someone in court before -- no and no, he responded. She asked whether his defenders had failed him in some significant way. No, they had not, he said.
Edmunds offered AbdulMutallab the option of another court-appointed attorney, which he rejected.
Finally, the judge pressed the defendant on what he knew about the rules of evidence and criminal procedure. At one point, she called his decision to represent himself "unwise."
The U.S. Justice Department, which is prosecuting the case, said it had no comment on the development.
AbdulMutallab faces with six federal charges, including attempted use of a weapon of mass destruction and willful attempt to destroy an aircraft. He has pleaded not guilty to charges of trying to blow up the Northwest Airlines plane.
At one point on Monday, he asked the judge: "If I want to plead guilty to some counts, basically, how would that go?"
Edmunds responded that his standby counsel should be able to help.
After the hearing, one of federal defenders who represented AbdulMutallab echoed the judge's concerns about self-representation.
"It's not a good idea to represent yourself," Leroy Soles told reporters outside court. He said he was satisfied with the way he had acted on behalf of AbdulMutallab.
AbdulMutallab is not the first high-profile terror suspect who has requested to represent himself in a U.S. court. Zacarias Moussaoui, the first man charged in connection with the September 11 attacks, similarly asked and was allowed to act as his own counsel. A judge later stripped him of that right after warning Moussaoui to stop filing what she termed frivolous and disrespectful court orders.
The next court date in AbdulMutallab's case is October 14.