STORY HIGHLIGHTS
Steven Hayes is charged with rape, murder, kidnapping, burglary, arson
Bank employees testify that doctor's wife said her family was being held hostage
Police say they were unable to enter the home because of fire
New Haven, Connecticut (CNN) -- The long-delayed trial of a man accused of killing a doctor's wife and her two daughters opened Monday with witnesses who told jurors Jennifer Hawke-Petit asked to withdraw $15,000 from the bank because she and her family were being held hostage at her home.
Prosecutors allege that Steven Hayes, 47, and Joshua Komisarjevsky, 30, broke into the Petit family's home in July 2007. The men are said to have beat up Dr. William Petit, strangled his 48-year-old wife and set the home ablaze. The couple's two daughters, 17-year-old Hayley Petit and 11-year-old Michaela Petit, died from smoke inhalation.
The two paroled felons are charged with capital murder, kidnapping, sexual assault, burglary and arson. They both could face the death penalty if convicted.
Hayes is accused of raping Hawke-Petit, and prosecutors have charged Komisarjevsky, who will be tried separately, with sexually assaulting Petit's 11-year-old daughter. The doctor was beaten but survived.
But first, prosecutors say, the one of the burglars took Hawke-Petit to a Bank of America branch and told her to withdraw $15,000.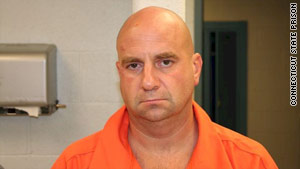 Steven Hayes, 47, and another ex-con allegedly terrorized and killed Jennifer Hawke-Petit and her daughters.
"I explained to her that $15,000 was over my limit and called my manager over," testified Kristin Makhzangi, a nurse who was the bank teller Hawke-Petit saw that morning. "She just mentioned she needed to take out $15,000 because she and her family were being held hostage at her house.
"At first, I thought it could possibly be a scam, because it has happened before," Makhzangi said. "But as I was talking to her, I saw that it wasn't."
Makhzangi said that after her manager approved the withdrawal, she watched Hawke-Petit leave the bank.
"I saw her standing in the front parking lot, then I saw a car pull up, and she got in the front passenger seat," the former teller said. "The gentleman was wearing a baseball cap with a red brim. He appeared to be white, Caucasian ... and then they just drove off."
Meanwhile, Makhzangi's manager, Mary Lyons, called 911.
"They told her they wouldn't hurt anybody if she came back with the money," Lyons says in the recording of the call played in the courtroom. "I think she believes them. She said they've been very nice, and she knows they'll leave after she gets back with the money."
Lyons testified that Hawke-Petit "seemed quite calm. She seemed to me very brave."
"I knew right then that what she was telling me was true, and I knew I had to help her," she said. "I believed what she was telling me. She needed to get out of there."
Other witnesses testified about the scene at the Petit home. A neighbor found Petit lying in the driveway, urging him to "call 911." Police were already on the scene, however. One of the police officers who responded to the call testified that officers were unable to enter the home because of the fire.
After the fire department extinguished the blaze, Officer Thomas Wright said, he entered the house and went upstairs, where he found a body outside a bedroom and a second body inside a bedroom, tied to a bed.
Jury selection for Hayes' trial was delayed in February when he was found unconscious in his cell and rushed to the the infirmary at MacDougall-Walker prison in Suffield, where he was hospitalized for a week.The Hartford Courant, citing unnamed sources, said Hayes apparently overdosed on medication he receives daily.
FOLLOW THIS TOPIC