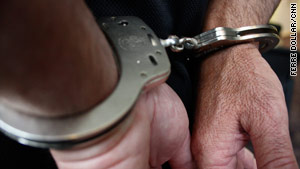 The FBI estimates that law enforcement made 13.7 million arrests last year, not including arrests for traffic violations.
STORY HIGHLIGHTS
NEW: Historically, crime rises in a recession, criminologists say
NEW: Crime up in some areas where poverty is significant
Violent crimes dropped for the third consecutive year in 2009
Property crimes dropped in 2009 for the seventh straight year
Washington (CNN) -- Americans may be bleak about the overall state of the country, but there's cause for optimism in at least one area: the fight against crime.
Criminologists were scratching heads and reviewing data Monday as they pondered the reasons for the significant statistical decline in crime nationwide last year, the third straight decline, according to the FBI's annual report on violent crime. The overall drop of 5.3 percent in violent crime and a total decline in reported property crimes of 4.6 percent for 2009 occurred during a recession, and, historically, crime has edged up when the nation's economy is troubled.
Nationwide, more than 1.3 million violent crimes were reported last year, the FBI said, or slightly fewer than 430 offenses for every 100,000 individuals.
Crime expert Alfred Blumstein at Carnegie-Mellon University in Pittsburgh, Pennsylvania, found the decline remarkable for its breadth nationally.
"I studied murder and robbery in 23 large high-crime cities, and homicides were down in 19 of them, and robberies were down in 21 of them," Blumstein said. "That shows this drop was large in magnitude across most big cities in the country,"
Veteran criminologist James Allen Fox of Northeastern University in Boston, Massachusetts, agreed that the declines were significant but worried about the pockets of poverty where crime increased last year despite the national trend.
Murders declined nationwide by 7.3 percent, but the number of murders in Detroit, Michigan, jumped from 306 to 365. Murders were also up in Newark, New Jersey, and Baltimore, Maryland.
"Although homicides were down sharply in more affluent areas and among those 25 and over, the sound of gunfire was all too common in some poor neighborhoods. It's not rosy everywhere," Fox said.
Robbery dropped by 8.0 percent compared with 2008, according to the report, and aggravated assault declined by 4.2 percent. Forcible rape dropped 2.6 percent.
Property crimes, according to the FBI, dropped for the seventh straight year in 2009. Nationwide, slightly over 9.3 million property crimes were reported. Motor vehicle thefts plunged more than 17 percent, while larceny fell 4.0 percent and the estimated number of burglaries dropped 1.3 percent.
Attorney General Eric Holder issued a statement seeking to tie the decline in crime to the Obama administration's stimulus package spending to assist local police departments.
"In 2009 the Obama administration provided over $4 billion in support to law enforcement and criminal justice initiatives through the American Recovery and Reinvestment Act, including $1 billion in COPS funding to keep police officers on the street," Holder said. "Investments in law enforcement play a significant role in reducing violent and property crime."
Republicans who opposed the stimulus spending were predictably unimpressed with the attorney general's claim. Two top GOP staff members on Capitol Hill questioned the assertion that the spending had any direct impact. The Republican lawmakers for whom they work, however, declined to issue any public statements on the subject.
The criminologists also were reluctant to give the federal government too much credit.
"At the margins it can help, but it's tough to prove," Blumstein said. But the professor offered a theory that the election of an African-American president may have had a positive impact on crime by some young blacks in 2009.
"The arrest of blacks was down 2 percent last year. The arrest of whites was up 2 percent," he said. "Perhaps some youths said 'This country isn't so bad after all,' " Blumstein added.
Fox found it "difficult" to draw a clear connection between the stimulus funding and the drop in crime.
"The funding was temporary, not long-term," he said. "What's needed is sustained funding, not just for law enforcement but for prevention programs."
And Fox said he worries that local officials and policy makers will see the decline in crime statistics as a justification for further cuts in crime-fighting and crime-prevention programs when they are still badly needed in many communities.
The FBI estimated that law enforcement officials made roughly 13.7 million arrests last year, not including arrests for traffic violations. Excluding totals for arson, property crime victims lost an estimated $15.2 billion last year.
Officials did not release an estimate for hate crimes, which are compiled for a separate report.
CNN's Terry Frieden contributed to this report.
FOLLOW THIS TOPIC