Another body found in string of California deaths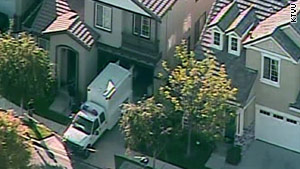 Authorities found a body in this Hercules, California, home. Hercules is on San Pablo Bay, north of Richmond and Berkeley.
STORY HIGHLIGHTS
Police say the body of Frederick Sales was found hidden and bound in plastic
Sales' father was previously found bludgeoned to death
The suspect in the deaths was killed in a shootout with officers
The body of the suspect's girlfriend was found in the trunk of his vehicle
(CNN) -- Police in California have found a plastic-wrapped body that might be tied to a bizarre saga involving several homicides in the San Francisco Bay Area.
The body of Frederick Sales, 35, was found bound in plastic and hidden in a closet of a home, the Hercules Police Department said in a statement Saturday. Sales' cause of death had not been determined.
On August 28, Sales' father, 73-year-old Ricardo Sales, was found bludgeoned to death with multiple puncture wounds in the same home, police said. At that time, the younger Sales was reported missing.
An arrest warrant was issued for Efren Valdemoro after information came to light that he had an altercation with the elder Sales and his son the previous week, authorities said.
Valdemoro was killed in a shootout with California Highway Patrol officers August 31, authorities said.
He was also a person of interest in the killings of two elderly women in Vallejo, California. The women were last seen August 25, according to a statement from the Vallejo police.
Police in Vallejo secured a house in which the bodies of two elderly women were found, along with a large amount of explosive materials, federal and local authorities said.
Valdemoro is believed to have been associated with both women, Vallejo police have said.
After he was killed in a shootout with California Highway Patrol officers, officials said they found the body of Cindy Tran, Valdemoro's girlfriend, in the trunk of Valdemoro's vehicle.
FOLLOW THIS TOPIC