Lakers player arrested on domestic violence charges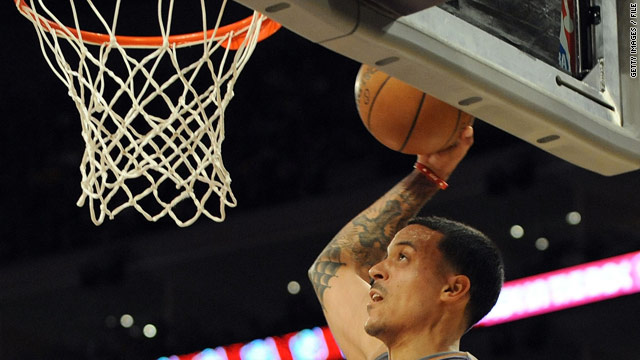 STORY HIGHLIGHTS
Matt Barnes was arrested after a phone call

He posted bail and was released

His arraignment is scheduled for Monday

(CNN) -- Los Angeles Lakers basketball player Matt Barnes was arrested Wednesday on domestic violence charges, authorities said.
The incident started at a home in the Sacramento area, the Sacramento County Sheriff's department said.
Authorities received a phone call from the home, but it was abruptly ended.
"When deputies arrived, they made contact with 30-year-old Matt Kelly Barnes and the adult female who he lived with and with whom he had a dating relationship," the sheriff's department said in a statement. "While both parties had visible injuries, Barnes was determined to be the primary aggressor and taken into custody."
He was booked on felony charges of domestic violence and maliciously obstructing the use of a telephone line.
He posted a $50,000 bond and was released from jail Wednesday evening, the sheriff's department said.
His arraignment is scheduled for Monday.
Barnes, who is a forward, played for the Orlando Magic last season.
The veteran player signed with the Lakers this year, according to NBA.com.
CNN's Amanda Watts contributed to this report.
FOLLOW THIS TOPIC