Police pay respect to fallen Alaskan officers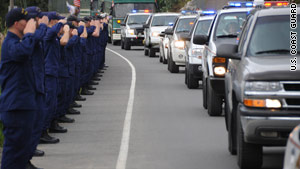 Coast Guardsmen salute a procession of police cars carrying the urns of two slain police officers Wednesday.
STORY HIGHLIGHTS
Police cars are ferried in for the service
Authorities call two officers' deaths an ambush
Small Alaska town of Hoonah is left with only one officer, report says
Little is known about shooting suspect
(CNN) -- Law enforcement personnel -- some from as far away as Illinois, Minnesota and Oregon -- traveled to the rural Alaskan town of Hoonah on Wednesday to pay their respects to two police officers shot to death last month.
A procession of police cruisers, brought to Hoonah by ferries, carried the urns of Hoonah police Officer Matthew Tokuoka and Sgt. Anthony Wallace to the memorial service.
Hoonah, an Alaska Panhandle town, is 68 miles west of the capital of Juneau by ferry.
Tokuoka, 39, and Wallace, 32, were shot August 28 in what troopers described as an ambush. Both officers later died from their injuries.
The shooting suspect, John Marvin Jr., 45, has been charged with two counts of first-degree murder.
The shooting left the town of Hoonah, which has about 800 people, with only one officer -- the police chief, according to KTUU-TV in Anchorage.
"We heard a gunshot and one of my co-workers looked out the window and he saw one policeman down," witness Dirk Knehr told the television station after the shooting. "He'd been shot, and another policeman was trying to drag him away and the suspect shot him twice. And then he just took off."
Little was known about Marvin, KTUU said. "The only information we have is that he's had problems with law enforcement in that community in the past, and there were some issues of stability," Alaska State Troopers Capt. Barry Wilson told the station.
Wallace began working with Hoonah police in 2008, according to the station. He was a 2008 graduate of the Rochester Institute of Technology in Rochester, New York, and a former campus police officer at the school.
"Tony, who was hard of hearing, proved remarkable at many levels," the institute said in a statement on its website. After joining campus police, he went on to attend the police academy, graduating as class valedictorian. An All-American wrestler, he was inducted into the school's Athletic Hall of Fame in 2008.
In an interview he did last year with the university's news department, Wallace said, "I hope that people who are in the same situation as I am see my story and begin to believe that if you put your mind to something, you can achieve it.
"Anything and everything is possible, it's just a matter of how bad you want it and how far you are willing to go to prove to people that you are worthy of whatever career you want to pursue."
Tokuoka, a former Marine Corps staff sergeant, was a Hawaii native who had been with Hoonah police since 2009, KTUU said.
FOLLOW THIS TOPIC