18 dead in shoe factory shooting in Honduras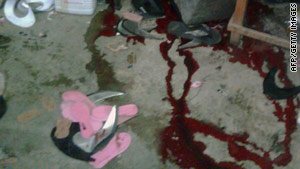 Police say they do not know a motive for the shootings and nobody has been arrested.
STORY HIGHLIGHTS
NEW: Victims in their teens and 20s
Motive not immediately known
Two gunmen burst into the factory and opened fire, police say
Tegucigalpa, Honduras (CNN) -- Eighteen people died and several others were wounded Tuesday in a shooting at a shoe factory in San Pedro Sula in northern Honduras, police said.
The incident began at 3:45 p.m., when two men carrying AK-47 assault rifles burst into the factory and began shooting, said Chief Hector Ivan Mejia of the San Pedro Sula Police Department. By the time police arrived a few minutes later, 13 people were dead in the building. Five others died at a hospital, he said.
The victims were in their teens and 20s, he said.
Efforts were under way Tuesday night to identify the bodies, which were being placed into yellow plastic body bags.
Mejia said he did not know the motive for the shootings and that no one had been arrested. "We will not rest until capturing the persons responsible," he said.
The approximately 2,000-square-foot factory is located in a suburb in southeast San Pedro Sula, which is the industrial capital of Honduras.
The factory is in a primarily residential area reputed to be under the control of the notorious Mara 18, a ruthless street gang with links throughout Central America and the west coast of the United States, Mejia said.
Mejia noted that drug traffickers have proliferated in the area in recent years, but said police had no reason to believe that the shooting was drug-related.
Journalist Daniel O'Connor contributed to this story from Tegucigalpa.
FOLLOW THIS TOPIC