Justice Department lawyers sue Arizona sheriff in civil rights probe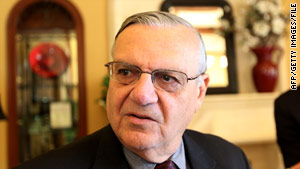 A lawsuit alleges Sheriff Joe Arpaio isn't cooperating with a probe into alleged discrimination against Hispanics.
STORY HIGHLIGHTS
NEW: "They can't get the proof so now they're suing me, just for documents" Arpaio says
The lawsuit says Sheriff Arpaio has failed to cooperate in an investigation
The probe is looking into allegations of discrimination against Latinos
Washington (CNN) -- Justice Department civil rights lawyers filed suit against Sheriff Joe Arpaio of Arizona on Thursday after talks collapsed on a deal to provide federal investigators with documents they requested.
The suit, filed in federal court in Phoenix, Arizona, claims the Maricopa County sheriff has failed to cooperate with the investigation into alleged discrimination against Hispanics by Arpaio's law enforcement officials.
The Justice Department expressed dismay at the sheriff's office's "refusal to cooperate with the investigation."
"The actions of the sheriff's office are unprecedented," said Assistant Attorney General Thomas Perez, chief of the Civil Rights Division. "It is unfortunate that the (Justice) Department was forced to resort to litigation to gain access to public documents and facilities."
The federal action became virtually certain after the sheriff's office last Friday rejected the government's demands in an open letter posted on the county's website.
In the letter, Arpaio's attorney, Robert Driscoll, wrote that the Justice Department's "current position that it is entitled to any document it wants, to access any facility it wishes, and to interview any witness it wants, without limitation ... is simply unreasonable."
At a news conference Thursday Arpaio struck a defiant tone.
"It's rather disgusting saying we don't cooperate when we are," the sheriff insisted. "A year and a half they've been investigating me on alleged racial profiling on the streets. They can't get the proof so now they're suing me, just for documents."
The Justice Department's Civil Rights Division is looking into claims that some of the sheriff's department practices, including immigration sweeps, are discriminatory.
Under Title VI of the Civil Rights Act of 1964, discrimination on the basis of national origin is prohibited in programs that receive federal money.
Maricopa County and its sheriff's office have repeatedly rejected the charge and opposed what it calls a "fishing expedition," offering access only to documents it believes are relevant to the probe.
Thursday's action marks the third lawsuit filed by the Justice Department against Arizona officials in the past month.
The government sued to block the state's new immigration law that permits officers to question individuals they have stopped about their immigration status and request personal documents.
On Wednesday, the government sued Maricopa County's community college system for alleged employment discrimination against Hispanic employees.