Authorities awaiting toxicology results in antifreeze killer's death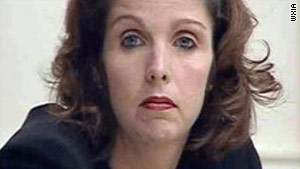 Julia Lynn Turner was serving life without parole in the Metro State Prison in Atlanta, Georgia.
STORY HIGHLIGHTS
Autopsy inconclusive on antifreeze killer
Toxicology results expected in two weeks to a month
Authorities say there are no signs of foul play in Lynn Turner's death
She was found unresponsive in her Georgia prison cell on Monday
Atlanta, Georgia (CNN) -- It will be at least two weeks until authorities can determine the cause of death of a Georgia inmate, found dead in prison where she was serving a life sentence for killing her boyfriend and husband with antifreeze, authorities said Wednesday.
Autopsy results were inconclusive on Julia Lynn Womack Turner, said Georgia Bureau of Investigation spokesman John Bankhead. Toxicology results will take at least two weeks and possibly up to a month, he said.
Turner, who went by Lynn, was serving a sentence of life in prison without parole in the Metro State Prison for women in Atlanta. She was found unresponsive in her cell Monday morning, and medics could not revive her.
There were no signs of foul play in her death, Bankhead said.
Lynn Turner was convicted of murder in the deaths of her husband, police officer Glenn Turner, and her boyfriend, firefighter Randy Thompson. Both men were poisoned with antifreeze.
Glenn Turner died March 3, 1995, from what was initially thought to be an irregular heartbeat. A week later, Lynn Turner moved in with Thompson, with whom she had begun an affair several months earlier.
But it was not until Thompson died in 2001 under similar circumstances that authorities exhumed the body of Glenn Turner and performed another autopsy.
In both cases, the men had exhibited flulike symptoms before being taken to the emergency room. They both died less than 24 hours after they left the hospital, from what a coroner initially identified as heart failure.
Further examination, however, revealed traces of ethylene glycol, a byproduct of antifreeze, in both of their bodies.
Lynn Turner was convicted of killing her husband in 2004, then convicted in 2007 of killing Thompson.
Cobb County, Georgia, prosecutors labeled her a "black widow" who murdered both men for financial gain. After her husband's death, Lynn Turner received more than $150,000 in benefits and interest from his life insurance and pension. She received about $36,000 from Thompson's death.
CNN's Ashley Hayes contributed to this report.
FOLLOW THIS TOPIC