Arizona cop's challenge of immigration law fails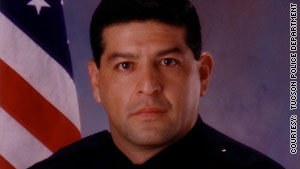 Officer Martin H. Escobar contended that Arizona's new immigration law was impossible to enforce.
STORY HIGHLIGHTS
Justice Department challenges the law
Judge says Tucson officer does not have legal standing to sue
Arizona governor says she is pleased by judge's decision
(CNN) -- A federal district court has dismissed a challenge filed by a Tucson police officer against Arizona's tough new immigration law.
U.S. District Judge Susan Bolton said Tuesday that Tucson officer Martin Escobar lacks the legal standing to sue, according to court documents.
Escobar's lawsuit was one of several against Arizona's controversial immigration law. The Justice Department mounted a successful challenge to Arizona's law in July.
On the eve of the law going into effect, Bolton granted a preliminary injunction that blocked the most controversial parts of the law.
The injunction means police are prevented from questioning people's immigration status if there is reason to believe they are in the country illegally, which was a hotly debated part of law.
Bolton also blocked provisions of the law making it a crime to fail to apply for or carry alien registration papers or "for an unauthorized alien to solicit, apply for, or perform work," and a provision "authorizing the warrantless arrest of a person" if there is reason to believe that person might be subject to deportation.
Other parts of the law, however, went into effect. This includes a ban on so-called sanctuary cities and the criminalization of hiring day laborers who are in the country illegally.
Arizona Gov. Jan Brewer has appealed the judge's decision to side with the Justice Department in its challenge of the immigration law.
She said she was pleased with the judge's decision in the case involving the Tucson officer.
"I strongly believe that Arizona will ultimately prevail in all of these legal challenges. My defense of the rule of law will continue," Brewer said.
FOLLOW THIS TOPIC