Stabbing suspect's preliminary hearing set for September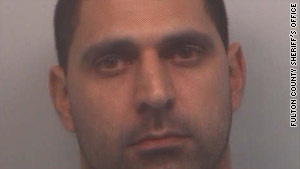 Elias Abuelazam is accused of slashing 18 victims in Michigan, Virginia and Ohio.
STORY HIGHLIGHTS
Elias Abuelazam suspected in 18 attacks, killing 5 people
Preliminary hearing set for September 21
Most of the victims were African American
(CNN) -- A September preliminary hearing has been set for stabbing suspect Elias Abuelazam, the man suspected of stabbing 18 victims in three states. Five people were killed in the attacks.
At a pretrial hearing was held Tuesday in Flint, Michigan where Abuelazam's next court date was set September 21 at 8:30 a.m., according to Sandy Quiel, Genesee County District Court office supervisor.
Abuelazam was arrested August 11 at Atlanta, Georgia's Hartsfield-Jackson International Airport. He was trying to board a flight to Israel when he was taken into custody, police said.
He is accused of slashing 18 victims in Michigan, Virginia and Ohio, killing five of them, from May through August.

Video: Suspect held without bond

Video: 'I didn't do anything'

Video: Serial killer suspect in court
Authorities had Abuelazam in custody twice in a two-week stretch, both within hours of when stabbings were reported, but he was released. Police said he had not been linked to the attacks at the time.
He was arrested August 5 after a traffic stop and July 29 for allegedly providing alcohol to a minor. He was fined $125 in July.
In the traffic stop arrest, in Arlington, Virginia, police arrested Abuelazam after learning he had an outstanding warrant for assault. A knife and hammer were found in his car.
Authorities now believe both weapons were used in the string of stabbings. One of the attacks took place in Virginia hours after Abuelazam was released.
Most of the stabbing victims were African-American. Federal officials have not provided a motive for the attacks, but Leesburg, Virginia, Police Chief Joseph Price has said he believed the attacker was targeting African-Americans.
Abuelazam is believed responsible for three attacks in Leesburg, the stabbing deaths of five people and the wounding of nine others in Flint and a stabbing that wounded a man in Toledo, Ohio, authorities have said.