Mayor killed in Mexican border state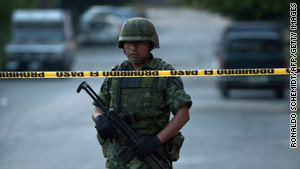 Police and federal authorities are battling a notable increase in crime in the Mexican state of Tamaulipas.
STORY HIGHLIGHTS
Authorities say the mayor was driving with his daughter when he was killed
Governor says the killing was an "attack against institutions"
Mexico's president condemns the violence
The state of Tamaulipas is also where 72 slain migrants were found
(CNN) -- The mayor of a city in the Mexican border state of Tamaulipas was killed and his 10-year-old daughter was injured Sunday, officials said.
Marco Antonio Leal Garcia, mayor of the city of Hidalgo, was driving a truck around 4:30 p.m. when he was killed, state prosecutors said in a statement. They did not provide details about the attack.
Leal's daughter, who was riding with him, sustained non-life-threatening injuries, prosecutors said.
"It was not just attack against a person. It was an attack against institutions," Tamaulipas Governor Eugenio Hernandez Flores said in a statement Sunday night.
He said police were still investigating the attack, and called on federal authorities to send reinforcements to the state in response to a notable increase in crime.
Mexican President Felipe Calderon's office released a statement condemning the attack.
"This cowardly crime and reprehensible violent acts which occurred recently in this state reinforce our commitment to use all the resources of the Mexican state to continue fighting criminal gangs seeking to intimidate the families Tamaulipas," the statement said.
The state of Tamaulipas, which borders Texas, has seen a spike in violence amid Mexico's drug war. On Tuesday, investigators found the bodies of 72 slain migrants there.
A young man from Ecuador who led navy personnel to the scene of the massacre said he escaped after pretending he was dead. Officials are investigating whether the Zetas drug gang carried out the killings, as the young man reportedly told police.
More than 28,000 people have died in drug violence since Calderon intensified the government's fight against drug cartels and organized crime after taking office in December 2006.
CNN's Nick Valencia and Catherine E. Shoichet contributed to this report.
FOLLOW THIS TOPIC