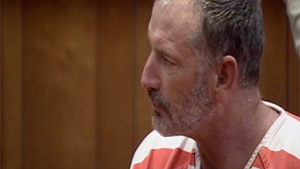 John McCluskey was serving a 15-year sentence when he broke out of prison July 30.
STORY HIGHLIGHTS
McCluskey apparently used a disposable razor
The injuries are minor, source says
McCluskey and his alleged accomplice eluded police for three weeks
(CNN) -- Jailed former prison escapee John McCluskey was discovered Tuesday with self-inflicted cuts on his neck and forearms, a source close to the investigation said.
McCluskey, 45, was taken from the Mohave County Jail in Kingman, Arizona, to a hospital, where he was treated for minor injuries. The cuts apparently were made with a disposable razor.
McCluskey was serving a 15-year sentence for attempted second-degree murder and other charges when he and fellow convicts Tracy Province and Daniel Renwick broke out of the prison July 30, allegedly with help from Casslyn Mae Welch.
Renwick was recaptured the next day, and Province was caught eight days later. But McCluskey and Welch, 44, eluded authorities until late last week. The hunt for the pair ranged from the Southwest to western Montana and along the border with Canada, federal marshals said.

Video: Fugitive couple arrested
Welch and McCluskey appeared in court Friday in Apache County, Arizona, where he faces three counts of kidnapping, two counts of escape, two counts of robbery, two counts of aggravated assault and two counts of misconduct involving weapons.
Welch faces a similar but shorter list of charges. Bail was set at $1 million for each.
McCluskey and Welch were arrested late Thursday at a campground on the edge of Apache and Sitgreaves National Forests in Springerville, Arizona, U.S. Marshal David Gonzales said Friday. A forest service employee noticed an unattended fire at a campsite and spotted a suspicious car backed into some trees, authorities said.
A license plate check determined that it matched the description of one recently stolen in New Mexico, near where a couple was murdered. McCluskey and Welch are suspected in the killings of the couple, whose bodies were found in their burned camper this month, according to authorities.
Welch, who was on the visitation list for one of the inmates, threw cutting tools over a prison fence to help the men escape, corrections officials said this month.
Renwick, 36, was captured August 1 in a shootout with police in Rifle, Colorado. He was serving 22 years for second-degree murder when he escaped. Province, 42, was caught August 9 in Meeteetse, Wyoming, near Yellowstone National Park after authorities were notified by a local resident who sat and talked with Province a day earlier on the steps of a church in town. He was serving a life sentence for murder and armed robbery.
Renwick remains in the Garfield County, Colorado, jail on charges of attempted first-degree murder and eluding police, the U.S. Marshals Service said Sunday. Authorities are working to coordinate the transport of Province back to Arizona from Wyoming, expected to occur within the next month, the marshals service said.
This month, a warden and a security official resigned their posts at the Arizona state prison where the three inmates escaped, according to a spokesman for the private company that runs the facility.
CNN's Melanie Whitley contributed to this report.
FOLLOW THIS TOPIC