Terror suspect from Spain arrested in Belgium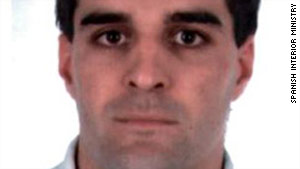 A photo supplied by the Spanish Interior Ministry of ETA suspect Luis Maria Zengotitabengoa.
STORY HIGHLIGHTS
Authorities say they have evidence linking the suspect to a van carrying explosives
The suspect is arrested as he checks into a Belgian hotel
Zengotitabengoa's brother was previously arrested
(CNN) -- One of Spain's most wanted terror suspects was arrested in Belgium on Saturday, Spanish interior ministry officials said.
Luis Maria Zengotitabengoa, an alleged member of the terrorist ETA group, was captured by Belgian police as he checked into a hotel in the city of Ostend.
Zengotitabengoa became a wanted man in January when police found evidence linking him to a van carrying explosives in the city of Zamora, near the Spain-Portugal border.
His brother Andoni was arrested in March at the Lisbon airport before boarding a plane to Venezuela using a fake Mexican passport.
According to the interior ministry, 67 alleged ETA members and collaborators have been arrested this year.
CNN's Gustavo Valdes contributed to this report.
FOLLOW THIS TOPIC