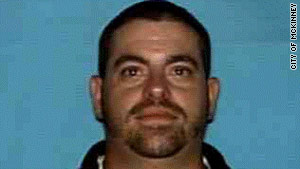 Patrick Sharp, 29, of Anna, Texas, shot himself in the head, said the Collin County medical examiner.
STORY HIGHLIGHTS
NEW: Shooter was "looking to die," McKinney police chief says
NEW: Patrick Gray Sharp indicated his intent to commit suicide on social media sites
NEW: Friends and family are "shocked" by the incident
Police are still investigating Sharp's attack on a police building north of Dallas
Dallas, Texas (CNN) -- Authorities in McKinney, Texas, remained baffled Wednesday as to why a heavily armed man orchestrated an elaborate attack on the town's public safety building a day earlier, opening fire on officers and attempting to ignite explosive substances before turning the gun on himself as police closed in.
McKinney Police Chief Doug Kowalski said Wednesday that 29-year-old Patrick Gray Sharp "was looking to die" in what he called "a clear case of suicide by cop," but added that police still don't understand the motive behind the attack.
Investigators have spoken with Sharp's friends, family members and co-workers. They all described Sharp as "a very nice individual," Kowalski told CNN's "Rick's List."
"They are shocked by yesterday's events," Kowalski said.
McKinney city spokeswoman Anna Folmnsbee said Wednesday the area in front of the building was still a crime scene and the investigation was ongoing.
No one else was injured in the attack, which unfolded in less than five minutes, police said.
"He just elected that he was going to die yesterday, and he was going to go out with guns blazing," Kowalski said.
Sharp appeared to allude to his possible death a day before the attack, Kowalski said.
"We found some correspondence to that effect on some social networking pages," he said. "He contacted his previous boss and made statements to that effect."
On a Facebook page belonging to a Patrick Gray Sharp, with a listed current city of McKinney, Texas, the "likes and interests," section included "Trucks, Trailers, There's just something about shooting guns that makes me feel good ... "

Video: Gunman dies after police station attack
The Dallas Morning News also obtained a Facebook message from Sharp to a female friend sent the morning of the attack. In the message, he wrote that he enjoyed "watching people beg for their life."
Sharp also indicated in the message that he had mental health issues."I have alot of [stuff] wrong with me, but didn't seek help. I don't take meds," the newspaper quoted the letter as saying.
Authorities said the incident began around 9 a.m. Tuesday when Sharp parked his truck, which was hauling a trailer, in front of the Department of Public Safety building in McKinney, about 30 miles north of Dallas. The building houses the police station and other city offices.
Sharp set the truck on fire, igniting ammunition inside the vehicle in what police believe was a tactic to draw people out of the building, Kowalski said. Sharp also attempted to set fire to the truck's trailer, which was carrying wood chips, road flares, gasoline and ammonium nitrate fertilizer, but it failed to ignite, Kowalski said.
"It looks like it was possibly an improvised explosive device," he said.
Sharp then retreated across the street to a tree line on the campus of Collin College, where he began firing on the public safety building's offices and windows and employees who were outside, Kowalski said.
Several campus structures were also struck by gunfire.
"I've been a police officer over 33 years now in several major departments -- this is a little bit unprecedented," Kowalski said. "He had a plan, he was activating his plan, he was heavily armed and he looked like he knew what he wanted to do. What we don't know is why he wanted to do it."
Sharp was found carrying an assault rifle, a 12-gauge shotgun and a 45-caliber semiautomatic pistol, Kowalski said, adding that several loaded ammunition magazines were found on his body.
More than 100 shell casings have been recovered from the scene, he said.
The Collin County medical examiner's office ruled Wednesday that Sharp killed himself with a gunshot to his head. The finding cleared up confusion in the hours after the incident as to whether Sharp had committed suicide or been shot by police.
Kowalski said Sharp turned his pistol on himself after he was struck by a police officer's bullet in his arm, prohibiting him from using his long rifle.
Kowalski credited the lack of other injuries to police training as well as improvements made to the public safety building in the wake of the September 11, 2001, terrorist attacks. Though more than 20 windows were blown out by the gunfire, the building's solid masonry -- left pockmarked by the shots -- absorbed much of the blow.
"Everyone did an outstanding job of containing the situation to keep it from expanding," Kowalski said Tuesday.
In addition to local authorities, the U.S. Bureau of Alcohol, Tobacco, Firearms and Explosives and the FBI are assisting in the investigation.
Sharp, of Anna, Texas, was a student at Collin College at one point in 2004, though Kowalski said "it doesn't seem like he had any particular beef with the college" or with police.
"This doesn't make any sense to any of us," he said. "The act is completely senseless."
CNN's Mark Morgenstein contributed to this report.
FOLLOW THIS TOPIC