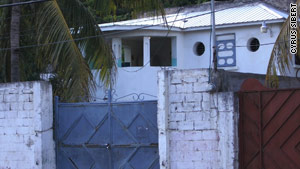 Project Pierre Toussaint formerly occupied this site in Cap-Haitien, Haiti.
STORY HIGHLIGHTS
Douglas Perlitz faces up to 30 years in prison
Authorities say he bribed victims with money and food
His school is now closed
(CNN) -- An American who founded a Haitian school for boys pleaded guilty to federal charges Wednesday, admitting he traveled to Haiti to engage in sexual conduct with eight minor boys who attended the school, authorities said.
Douglas Perlitz, 40, pleaded guilty to one count of traveling with the intent to engage in illicit sexual conduct, the U.S. Attorney's Office for the District of Connecticut said in a statement. He will be sentenced December 21 and faces a maximum of 30 years in prison and a fine of up to $250,000.
Perlitz, the founder of the now-closed Project Pierre Toussaint, a boys' school in Cap-Haitien, Haiti, "abused his position of authority to entice and persuade the minors to comply with the sex acts by providing the promise of food and shelter and other benefits, including cash, cell phones, electronics, shoes, clothes and other items," prosecutors said.
According to an indictment, Perlitz provided money and told one of the boys he would not be kicked out of the school even if he failed his classes. He allegedly offered another boy and his family money and other benefits, and in another case gave a television, shoes, clothes and meals to another boy, in exchange for sexual favors and their silence. Those who did not cooperate with Perlitz were denied the benefits, the indictment said.
Perlitz admitted traveling to Haiti between 2001 and 2008 for the purposes of sexual conduct with the minors, authorities said.
"Millions of people in Haiti face a daily challenge simply to survive," said David Fein, U.S. attorney for Connecticut. "The defendant preyed on impoverished and powerless street children in Haiti, enticing them with significant benefits such as food, shelter, clothing and education, only to exploit his position of trust and sexually abuse the boys under his care. I commend the extraordinary strength of the minor victims in this case who came forward and spoke out about the abuse that they suffered in order to protect others from harm and so that justice would prevail."
Perlitz obtained funding to found Project Pierre Toussaint in 1997, according to authorities. It initially began as an intake center and provided services to children of all ages, most of them street children, including meals, sports activities, basic classroom instruction and access to running water for baths. In 1999, it became a residential facility known as Village Pierre Toussaint. The Haiti Fund Inc., the nonprofit fundraising arm of the project, was incorporated in Connecticut, where Perlitz had attended Fairfield University.
Perlitz was arrested in Colorado last year after a federal grand jury in Connecticut indicted him on 10 counts related to the alleged sexual abuse of minors in Haiti. A 19-count superseding indictment was filed in January and a 24-count superseding indictment in April.
Last month, however, a judge granted a defense motion to dismiss the indictment for improper venue, finding that none of the crimes Perlitz was charged with committing took place in Connecticut, authorities said. But the court's ruling did not address the merits of the case.
Authorities obtained an arrest warrant July 15 for Perlitz in the Eastern District of New York, since he had traveled out of New York's John F. Kennedy International Airport.
"Although the government was prepared to present those charges to a grand jury in the Eastern District of New York, the defendant instead chose to waive venue and plead guilty in the District of Connecticut," federal prosecutors said. As part of that plea, the government will seek to dismiss the charges in New York after Perlitz's sentencing.
FOLLOW THIS TOPIC