Blagojevich jurors go home again with no verdict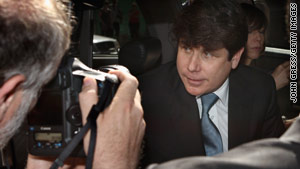 Former Illinois Gov. Rod Blagojevich was removed from office in January 2009.
STORY HIGHLIGHTS
NEW: 13th day of deliberations in Rod Blagojevich trial ends
Jury asks for transcript of testimony of former Deputy Gov. Bradley Tusk
Jury has agreed on only two of 24 counts; it has yet to consider 11 counts
Blagojevich, former governor of Illinois, faces racketeering, fraud charges
(CNN) -- Jurors deliberating the fate of former Illinois Gov. Rod Blagojevich finished the day Monday without a verdict after asking the judge for the transcript of the testimony of Blagojevich's former deputy governor.
After a three-day break in deliberations in the federal corruption trial, jurors said they wanted access to the testimony of Bradley Tusk. The judge agreed over the objections of the former governor's attorney.
Monday was day 13 of deliberations. On Thursday, the jury sent a note to the judge that suggested that it was far from reaching a decision.
The panel had decided on only two of the 24 counts against Blagojevich, the note said. It had failed to agree on 11 counts and had yet to consider 11 others, involving wire fraud charges. U.S. District Judge James Zagel told the jurors to continue deliberating and vote on each charge.
The former governor faces charges including racketeering, wire fraud, attempted extortion and bribery.
The two-term Democrat was removed from office in January 2009 amid accusations that he attempted to sell the U.S. Senate seat that had been occupied by Barack Obama before he became president.
In one conversation recorded by federal agents, he told an aide, "I've got this thing, and it's [expletive] golden. I'm just not giving it up for [expletive] nothing."
Conviction on the counts of wire fraud, racketeering and attempted extortion could each bring a maximum sentence of 20 years in prison and a fine of up to $250,000, while a conviction on the count of solicitation of bribery would carry a maximum sentence of 10 years and a fine of up to $250,000.
The maximum penalty for bribery conspiracy and false statements is five years in prison and a $250,000 fine.
Blagojevich's brother, Robert, is standing trial with him on four of the charges.
Robert Blagojevich testified that his brother was "trying to politically work something to his benefit" in handling the Senate appointment but was thinking in terms of political horse-trading, not corruption.
"It didn't seem out of the ordinary, because Obama was taking a lot of people from Illinois with him to D.C.," said Robert Blagojevich, who raised money for his brother. He said the governor "was interested in the idea of being the head of Health and Human Services."
While awaiting trial, the ousted governor asserted his innocence in interviews and on Twitter, as well as during his appearances on the "Celebrity Apprentice" reality show.
CNN's Katherine Wojtecki contributed to this report.
FOLLOW THIS TOPIC