$35,000 offered for info leading to arrests of fugitive pair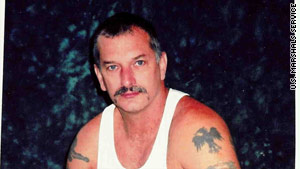 John McCluskey was serving a 15-year sentence for attempted second-degree murder and other charges.
STORY HIGHLIGHTS
$35,000 offered to information leading to the pair's arrests
John McCluskey is one of three convicts who escaped July 30
The other two have since been re-arrested
Both fugitives may have changed their appearances
(CNN) -- A reward of up to $35,000 is being offered for information leading to the arrests of escaped prisoner John McCluskey and his alleged accomplice, Casslyn Welch, Arizona State Police said Friday.
McCluskey, 45, was serving a 15-year sentence for attempted second-degree murder and other charges when he and fellow convicts Tracy Province and Daniel Renwick broke out of Arizona State Prison - Kingman on July 30, allegedly with Welch's help.
Welch threw cutting tools over a prison fence, according to Charles Ryan, director of Arizona's Department of Corrections.
Province and Renwick have since been re-arrested.
McCluskey's mother, Claudia Washburn, and his ex-wife have been arrested on charges of helping the fugitives. Washburn is in custody on a $250,000 bond, charged in Maricopa County, Arizona, Superior Court with conspiracy to commit escape (second degree) and hindering prosecution (first degree) in the escape.
Investigators are focusing their efforts in western Arkansas, western Montana, and several other locations in the United States, the U.S. Marshals Service said Friday. The last credible sighting of the pair occurred August 6 in Billings, Montana, the marshals service said in a news release.
McCluskey is believed to have dyed his hair dark and grown a beard and Welch may have blonde hair, the release said.
"All information indicates McCluskey and Welch are still traveling together and should be considered armed and extremely dangerous. It is likely they are reacting, rather than taking deliberate action. As the manhunt protracts, it is highly possible they will become more desperate, creating increased danger to law enforcement and the general public. If they are encountered, call local law enforcement immediately."
Authorities said they are likely driving a gray, gold or tan 1997 Nissan Sentra, though both are experienced semitruck drivers known to have frequented truck stops, rest areas and campgrounds.
FOLLOW THIS TOPIC