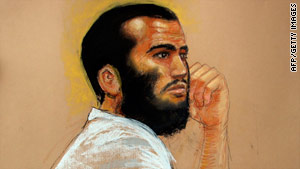 A sketch by courtroom artist Janet Hamlin shows Canadian defendant Omar Khadr on April 28.
STORY HIGHLIGHTS
NEW: It's uncertain whether testimony will resume Friday in trial of Omar Khadr
Video reportedly shows the suspect assembling bombs
A witness describes battle at suspected bomb-making compound
Defense says Omar Khadr's father forced him to fight
Guantanamo Bay, Cuba (CNN) -- The defense lawyer for Omar Khadr, accused of assembling and planting roadside bombs targeting American troops in Afghanistan, collapsed during testimony Thursday and was hospitalized.
It was unclear whether Lt. Col. Jon Jackson's illness will delay the terrorism trial.
Officials said they would not know until late Thursday whether he would be flown to another hospital on the U.S. mainland, said Lt. Col. Bryan Broyles, deputy chief counsel for the Office of Military Commissions. Jackson was at the base hospital receiving pain medication, Broyles said.
Jackson's collapse apparently is related to recent gall bladder surgery, and the seriousness of his condition is unknown, Broyles told CNN.
Jackson, the only lawyer representing Khadr in the court, was questioning a prosecution witness when he stopped, asked for water, then fell to one knee and then rolled to the floor.
The court is expected to convene Friday to discuss the latest on Jackson and scheduling, Broyles said.
The military court earlier viewed a 30-minute video Thursday that the government says shows the then-15-year-old Khadr helping to assemble and plant roadside bombs targeting American troops in Afghanistan.
The tape was discovered at the compound where Khadr was captured in 2002, a month after the firefight in which Khadr was seriously wounded and an American Special Forces soldier was killed.
The Canadian-born Khadr, the youngest detainee at Guantanamo Naval Base in Cuba, is accused of killing Army Sgt. 1st Class Christopher Speer.
According to English subtitles added to the tape, one person of several seen on the tape, says, "Allah willing, we will get a good number of Americans." The video shows Khadr looking much younger than he appears in court now and beardless. There is no date on the tape.
Segments of the tape appear to show people assembling elements of roadside bombs from anti-tank mines and using a ax to bury them and detonation wires.
The video was allowed into evidence only after a flurry of defense objections. The judge warned court panel members of the uncertainty of knowing who was talking when the subtitles appear. The scenes of alleged bomb-making are included with scenes of household life.
Under cross-examination, the military commander of the July 27, 2002, attack on the suspected terrorist bomb-making compound admitted he allowed a re-creation of the tape discovery to be done for a military cameraman.
Identified only as "Colonel W" in accordance with the security rules imposed on everyone at Guantanamo, the officer admitted he never would have allowed such a staging of an event where he serves as a "Rocky Mountain state" police officer in civilian life.
He said he was in a military operation in Afghanistan and did not formally treat the videotape as evidence. "We were operating as a military force ... none of us believed we would be in a courtroom dealing with a terrorist," Colonel W said.
In another development, Colonel W said a CIA officer who wore civilian clothes and had sometimes been armed had accompanied American and Afghanistan soldiers on the attack.
At the time of his collapse, Jackson had been questioning a Special Forces soldier known only as "Sgt. Major D."
Sgt. Major D had led the final assault and shot Khadr twice.
The witness said everyone in the compound was considered dangerous. "I engaged him as a hostile," he said of Khadr.
"You shot him in the back," asked Jackson. "I shot him twice in the back," was Sgt. Major D's reply.
Minute-by-minute testimony about the fighting came on the first day of the first full military trial of a terror suspect under the Obama administration. Seven officers are hearing the case.
The government insists Khadr, now 23, is a war criminal; an unlawful combatant who acted outside the laws of war, and who killed a U.S. Special Forces soldier with a grenade in that battle.
Colonel W described how he knelt beside Speer, who was mortally wounded, and held his hand.
"I tried talking to him, to tell him things were OK, and asked him to hang on," the witness said.
Tabitha Speer, the soldier's widow, sat in the first row of the military courtroom behind the prosecution table, with a clear view of Khadr. Journalists inside the courtroom said she dabbed her eyes with a tissue during Colonel W's testimony, and at descriptions of how medics at the scene took care of her husband.
The colonel used a high-tech video display to trace the route that day of U.S. forces on a satellite photo of the region near Khost, Afghanistan. Standing beside a table-sized model of the compound provided by the prosecution, he described nearly every moment of the attack on a building in which authorities believed roadside bombs were being produced.
Colonel W said the four-hour battle involved American soldiers, Afghanistan militia, Apache helicopters and fighter jets that dropped two 500-pound bombs.
The witness also referenced prosecution photographs of remote firing devices for the roadside bombs that he said were found inside the compound where Khadr was captured.
For the prosecution, civilian lawyer Jeff Groharing said Khadr was "a terrorist trained by al Qaeda ... dedicated to killing as many Americans as possible."
He said Khadr was shot twice in the firefight with Americans before he threw a grenade that killed Speer and injured others. Colonel W testified that in his initial report of the battle, he had written that Khadr had been killed, due to the severity of his injuries.
Groharing said Khadr's own statements to American authorities would link him to the attack and said details might vary among those involved in the battle, but that all Americans present that day agree that the grenade came from Khadr's direction.
The defense maintains that Khadr was a child soldier, coerced into fighting by the adults around him. His attorney also argued that there is no tangible evidence, amidst a confusing firefight, that Khadr threw the grenade.
"Omar Khadr did not kill Sgt. Speer," Khadr's Pentagon-appointed lawyer, Jackson said in his opening statement. "Omar Khadr is not a war criminal and the government of the United States is not going to be able to prove it."
The defense said Khadr made statements under duress. Jackson said he will call as a witness a person known as "Interrogator No. 1" who was the first to question the teenager at Bagram Air Force Base in Afghanistan. Jackson said the interrogator threatened Khadr with gang rape and death and later was convicted of mistreating detainees in another case.
It was Khadr's father who forced him to take up arms, Jackson contended, saying that the father "hated his enemies more than he loved his son."
"Omar Khadr was making decisions based on what people were telling him to do," Jackson said about the final moments on the battlefield, when Khadr -- wounded twice -- and another man were left fighting the Americans.
Only a limited number of journalists and other observers are allowed in the courtroom. No recording of the proceedings is allowed.
Army Col. Pat Parrish, the military commission judge, has predicted the trial could take several weeks.
CNN's Charley Keyes contributed to this article.
FOLLOW THIS TOPIC