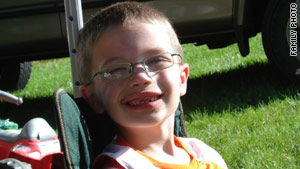 Kyron Horman, 7, has been missing since June 4.
STORY HIGHLIGHTS
Investigators are looking for witnesses who may have seen a white pickup truck
Kyron Horman was reported missing June 4
Authorities have said his disappearance involved "criminal behavior"
No suspects have been named in the case
Check out CNN affiliate KATU-TV in Portland, Oregon, for more information on the case.
(CNN) -- Authorities in Portland, Oregon, are seeking the assistance of the public as they continue to investigate the disappearance of 7-year-old Kyron Horman, Multnomah County officials said Wednesday.
Investigators are particularly interested in any potential witnesses who may have seen a white pickup truck believed driven by Kyron's stepmother, Terri Horman, on the morning of the boy's disappearance more than two months ago.
Detective Bob O'Donnell and Chief Deputy District Attorney Rod Underhill listed a number of locations the pickup truck is believed to have been seen that morning, including at or around Kyron's school as well as at two different supermarkets in the neighboring suburbs of Hillsboro and Beaverton.
"We are seeking whether any witnesses can identify any person or persons associated with the truck ... in or in the immediate proximity" of the vehicle between 8:15 a.m. and 8:45 a.m. on June 4, Underhill said.
Kyron was last seen June 4 when Horman told detectives she saw him walking down the hall of Skyline Elementary School toward his second-grade classroom.
Authorities declined to elaborate Wednesday on what leads they're hoping to receive from potential witnesses.
"What we really need is independent witness information that is subject to no suggestion. ... We want somebody to come forward and tell us what they actually saw as opposed to what they think they saw based on suggestion," Capt. Jason Gates said.
Authorities conducted more searches over the weekend as part of their investigation into his disappearance, which officials have said involved "criminal behavior."
The sheriff's office said the searches were prompted by information related to the case but would not disclose specifics of the operation except to say the areas canvassed were near the school.
No suspect has been named in the case, but intense scrutiny has been placed on Terri Horman and her associates.
A spokeswoman for the sheriff's office declined to comment on several published reports that said the weekend's searches were initiated following a tip from DeDe Spicher, a friend of Horman.
Spicher stayed with Terri Horman after her husband, Kaine Horman, filed for divorce shortly after his son's disappearance and he moved out of the family home.
Spicher was subpoenaed last month to meet with a grand jury investigating Kyron's disappearance. Other associates of Terri Horman are also believed to have testified before the grand jury.
In divorce filings, Kaine Horman has said he believes that Terri Horman "is involved in the disappearance of my son Kyron."
Court documents also allege Terri Horman attempted to hire a man to kill her husband.
CNN affiliate KATU reported Tuesday that a new flier was distributed by law enforcement seeking the public's help in the investigation.
The two-page flier asks residents near the Skyline school whether they saw Terri Horman and Spicher in the area on the day Kyron disappeared, and includes photos of both women as well as the white pickup referenced in Wednesday's news conference.
The Oregonian newspaper reported last month that detectives have asked Spicher about her whereabouts the day Kyron was last seen.
According to the newspaper, Spicher was doing gardening work for a Portland homeowner when she "abruptly left about 11:30 a.m."
The homeowner tried reaching Spicher on her cell phone, the newspaper reported, but got no answer. Spicher returned to the house about 90 minutes later, the newspaper reported, citing detectives.
The flier distributed Tuesday specifically asks residents whether they saw the two women between 9:45 a.m. and 1 p.m.
A $50,000 reward has been offered for any information leading to Kyron.
FOLLOW THIS TOPIC