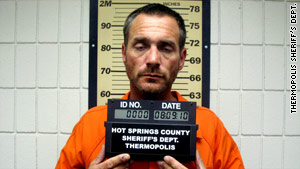 Tracy Province, 42, was arrested Monday morning outside a motel in Meeteetse, Wyoming, after 11 days on the lam.
STORY HIGHLIGHTS
Arizona prison escapee attended church service day before capture, pastor says
Pastor for Wyoming church says he paid Tracy Province to mow lawn
Province befriended motel guest who let him crash in room, motel owner says
Convicted murderer escaped with two other men July 30; one still loose
(CNN) -- The Rev. Ron Kingston thought Tracy Province was just a down-on-his luck soul when he welcomed him into his church in Meeteetse, Wyoming, on Sunday morning.
He would later be surprised to learn Province was a prison escapee and convicted murderer.
Province, 10 days after he and two other inmates escaped from an Arizona prison, walked into Meeteetse Community Church wearing blue jeans and a flannel shirt. He stayed for the 9:30 a.m. worship service, sang songs like "Your Grace is Enough," and shook hands with some of the 50 or so attendees, the pastor says.
A woman who spoke with Province at the church later recognized him from news reports that day and called police, leading to Province's arrest in town on Monday morning, according to the U.S. Marshals Service.
But on Sunday morning, Province just appeared to Kingston -- who had yet to hear that authorities were looking for Province in the Yellowstone National Park area -- to be someone who was just on an unlucky streak and looking for some work, Kingston recalled by phone Monday.
"I introduced myself to him because he was a face I hadn't seen before," Kingston said. "We shook hands, and I welcomed him to our church. He stayed for the worship service and sermon. Toward the end, people were leaving, but he stuck around ... and told me he was looking for work."

Video: One escapee captured in Wyoming

Video: Hunting down an escaped convict
Province, after introducing himself with a different name, told Kingston he had just been trying to work something out with a lady friend at Yellowstone, and was trying to find his way home after he failed.
"[The story went] she up and left him or something, so he was trying to hitchhike home, and was just down on his luck and needed some money," Kingston said.
Province told Kingston that he liked Meeteetse -- a town of about 300 people that is about 40 miles, as the crow flies, from the park -- and that he was a welder and might stay a while to look for work.
Kingston asked Province to mow the church's lawn and cut some weeds for some money. Province agreed, and was finished about an hour later.
"He was polite. He asked me if I appreciated how he cut the grass, if he did a good enough job," Kingston said.
Province, 42, escaped July 30 from an Arizona prison with inmates John Charles McCluskey, 45, and Daniel Renwick. Authorities say an accomplice, Casslyn Mae Welch, 43, helped the convicts escape by throwing cutting tools over a prison fence.
Renwick, 35, was arrested July 31 in Rifle, Colorado, after a shootout with police. Province -- who was serving a life sentence for murder and armed robbery -- and McCluskey are suspected in the killings of a couple whose bodies were found Wednesday in New Mexico, according to the U.S. Marshals Service.
Authorities warned Sunday that they believed Province, McCluskey and Welch could be in the Yellowstone National Park area, but that Province probably had separated from the other two. The marshals service still was looking for McCluskey and Welch on Monday, saying they could be in central Wyoming.
Province was arrested on Monday morning as he was walking out of a Meeteetse motel, carrying a hitchhiking sign with "Casper" written on it, the marshals service said.
Bobby Long, owner of Vision Quest Motel & RV Park, said authorities told him that motel was where Province was arrested. Long said Province apparently had befriended someone who was staying there, and the guest "allowed him to crash in the room" Sunday night.
Long said he didn't know Province was at his motel until after Province was arrested Monday.
Kingston said Province's arrival has been "a little shakeup for a country town."
"We don't have this kind of stuff happen very often," he said, noting that residents are now keenly aware that McCluskey and Welch are still loose. "I think it made people think about locking their doors, something we don't normally do."
Kingston said his heart and prayers go out to the victims in New Mexico, and he thanks God for the way Province's visit to town ended.
"I think [God] had his hand on our church service, because it could have turned out differently," he said.
Kingston said he asked Province on Sunday about whether he had faith in God. Province said he did, but wasn't always walking the walk, Kingston recalled.
"For some reason, I think this guy had a little respect for God," Kingston said. "Maybe he was looking for redemption."
The pastor said God also might have used Province's visit to lead authorities to him.
"He, maybe, came to this house for a reason, and God is a loving God, and he is also a just God," Kingston said.
FOLLOW THIS TOPIC