Two men sentenced in New York for Ecuadorian's beating death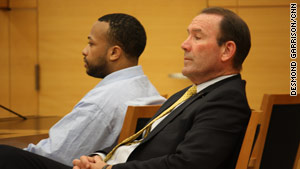 Keith Phoenix, left, shown at court in May, was convicted of a hate crime. Another attacker was convicted of manslaughter.
STORY HIGHLIGHTS
The Ecuadorian victim and his brother were walking home from a church party
The two assailants yelled anti-gay and ethnic slurs
An assailant convicted of murder was sentenced to 37 years to life
The other criminal was convicted of manslaughter and sentenced to 37 years
New York (CNN) -- Two men have been sentenced to lengthy prison terms in New York for the brutal beating death of an Ecuadorian immigrant nearly two years ago.
Jose Sucuzhanay died in December 2008, five days after he and his brother were beaten by two men as the Ecuadorians were walking home late at night from a New York City church party. The brothers were walking arm in arm, and the two assailants yelled anti-gay and ethnic slurs as they beat the victims.
Assailant Keith Phoenix, who was convicted of a hate crime, was sentenced Thursday to 37 years to life in prison. His accomplice Hakim Scott was sentenced to 37 years in prison. He was convicted of manslaughter, but acquitted of a murder charge.
Sucuzhanay, 31, was hit in the head with a bottle and beaten with a baseball bat. He died in a Queens hospital five days after the beating.
The death drew widespread condemnation in New York and elsewhere. Hundreds of people marched through the Brooklyn neighborhood where Sucuzhanay was attacked, carrying signs saying, "No more hate crimes."
Sucuzhanay's brother, Diego Sucuzhanay, told CNN his brother would always be remembered as the victim of a hate crime and it was time for him and others to speak out.
"Our brother wanted to make history when he died, and he did already. We should be proud of him. The way he died, we should be proud of him," he said.
Family spokesman Francisco Moya said Jose Sucuzhanay had lived in the United States for more than a decade and was a legal resident.
Another Ecuadorian immigrant had been slain the month before Sucuzhanay, in Patchogue, New York, about 50 miles east of Brooklyn on Long Island. Police said Marcello Lucero, 37, was stabbed in the chest as he walked to a friend's apartment. In May, teenager Jeffrey Conroy was sentenced to 25 years in prison for manslaughter as a hate crime.
FOLLOW THIS TOPIC