Police questioning a person in Maryland slayings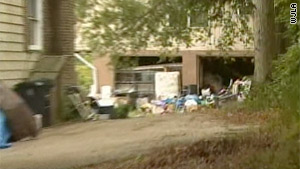 The Prince George's County Police chief described the crime scene as "horrific."
STORY HIGHLIGHTS
NEW: Police are questioning people but have named no suspects
Police: Bodies are of two women and two children under the age of 6
Some of the victims are from the Congo
Police believe the perpetrator may have known the victims
(CNN) -- Investigators are questioning at least one person in the deaths of four people found Friday in a debris-filled Maryland home that "gives the appearance of a landfill," the police chief said.
Prince George's County Police Chief Roberto Hylton said the bodies of two women in their late 30s and a girl, 3, and boy, 5, were found in a Riverdale residence outside Washington. They died of multiple gunshot wounds, he said.
The victims were discovered shortly after authorities responded to an assault complaint between 2:45 and 3 a.m., Hylton said.
Some of the victims are from the Congo but not all, he said.
Police, who have not named any suspects, are in the process of interviewing several "persons of interest" and do not believe that the crime was random, Hylton said.
Officers have not pinpointed a specific motive, he said. "The leads are leading in a number of directions."
The crime "appears to be personal in nature," he said. The individual responsible for the crime "may be known to the victims," and "that's the theory we're proceeding on."
Hylton described the crime scene -- in a living space above a house's garage -- as "horrific."
"No human being should have been living" there, he said, noting that there was no running water, air conditioning or toilets. "There's trash and garbage" and containers of human feces everywhere, he said.
Officers were being given specialized outfits and equipment to help clear the debris, Hylton said.
Police know the cause of death but refused to divulge any details because the case is evolving, Hylton said. Identities of the victims were not released Friday, pending final identification and reaching next of kin.
The main home was being rented out, and police were in the process of identifying the owner, he said. Hylton indicated that the house was cited for a code violation in 2009.
CNN's Alan Silverleib contributed to this report.
FOLLOW THIS TOPIC