New York terror suspect be arraigned Friday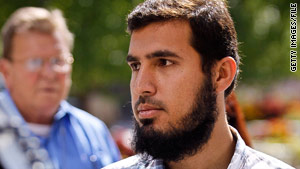 Co-defendant Najibullah Zazi has already admitted his role in alleged plot to bomb subway stations in Manhattan.
STORY HIGHLIGHTS
Adis Medunjanin is charged in an alleged plot targeting New York's subways
The FBI says he is an associate of Najibullah Zazi
Zazi has already pleaded guilty
Medunjanin is scheduled to be arraigned Friday
New York (CNN) -- A 25-year-old Bosnian immigrant who lives in New York is scheduled to be arraigned Friday on charges related to an alleged terrorist plot targeting the city's subway system, according to U.S. District Court for the Eastern District of New York.
According to the FBI, Adis Medunjanin is an associate of Najibullah Zazi, who has already admitted to the plot.
Both men were arrested in January in New York, along with defendant Zarein Ahmedzay. In February, a federal grand jury returned an indictment of all three men on terrorism violations stemming from the alleged plot to attack New York City.
The indictment claims that senior al Qaeda operative Shukri El Shukrijumah recruited Zazi to conduct suicide bombings in New York with bombs made of hydrogen peroxide, acetone, flour and oil. U.S. investigators believe Zazi took Medunjanin and Ahmedzay to Pakistan in the second half of 2008 to receive military training from al Qaeda.
Medunjanin was charged in February with conspiring to use weapons of mass destruction, conspiring to provide material support to al Qaeda and giving and receiving al Qaeda military training. Medunjanin and Zazi also were charged with conspiracy to commit murder in a foreign country, according to the FBI.
A new charge was added in July alleging Medunjanin tried to crash his car into another vehicle on New York's Whitestone Bridge in an attempt to conduct a suicide attack. Medunjanin has denied all charges.
Medunjanin is scheduled to appear Friday before Judge Raymond Dearie of the U.S. District Court of Eastern New York in Brooklyn. The arraignment is scheduled for 11:30 a.m. ET, according to the court calendar.
Robert C. Gottlieb, Medunjanin's attorney, told CNN on Thursday that his client "intends on pleading not guilty, and the case is going to proceed to trial."
FOLLOW THIS TOPIC