Cleared of NFL discipline, Vick focuses on positive actions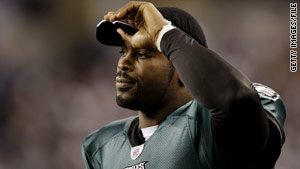 Michael Vick was not a suspect in the shooting that happened at his birthday party in June, police said.
STORY HIGHLIGHTS
NEW: Vick says 'I've been trying to do the right things'
NFL will not discipline Michael Vick for a party incident
Virginia police say the quarterback is not a suspect in the shooting
Vick served 18 months for dog fighting conviction
(CNN) -- Philadelphia Eagles quarterback Michael Vick, spared discipline by the National Football League over a shooting incident, said Wednesday he is trying to do the "right things" on and off the field.
"Now I can focus on football," Vick, the team's No. 2 quarterback, said of the NFL's Tuesday decision.
Virginia Beach, Virginia, authorities earlier this month decided not to file charges against anyone in a party incident because the victim and witnesses would not cooperate. The birthday party was for Vick, who was not a suspect.
But Vick, who spoke with NFL Commissioner Roger Goodell, acknowledged to reporters after a training camp session he must walk a disciplinary tight rope and has no margin for error.
"We had a great conversation. We're on the same page," said Vick. "I understand what I am supposed to be doing."
"Commissioner Goodell spoke several weeks ago by phone with Michael, Tony Dungy, and Eagles Coach Andy Reid," the NFL said in a statement . "All were in agreement on the need for additional support measures to be added to Michael's plan to enhance his opportunity to succeed in life and football. These additional steps will remain confidential, but they will require Michael to meet even higher standards."
The shooting happened shortly after 2 a.m. June 25 in the Town Center area of Virginia Beach. Officers who arrived at Guadalajara's Restaurant were told that a man had been shot but he had left. Investigators said they knew the identity of the shooter. Vick declined Wednesday to discuss the shooting.
Vick, in the middle of a two-year contract with the Eagles, returned to the National Football League in 2009 after serving 18 months in prison on a federal dog fighting conviction.
"Over the last year I've been trying to do the right things in the community and the field," he said. "I'm having the most fun in eight years."
FOLLOW THIS TOPIC