California police: Boy, 13, chained to table by father, stepmother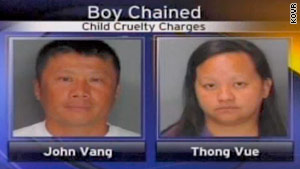 John Vang and Thong Vue are facing charges of false imprisonment and child cruelty.
STORY HIGHLIGHTS
The boy was able to escape Friday night and authorities were alerted
The father and stepmother are facing false imprisonment and child cruelty charges
Police believe there were at least two prior occasions of such abuse
(CNN) -- A 13-year-old boy fled his home in Sacramento, California, over the weekend after his father and stepmother allegedly chained him to the kitchen table before they went to a casino, police said Monday.
The boy, who sustained bruises to his legs, arms and neck as a result of the chains, is now in the custody of his biological mother, Sacramento police Sgt. Norm Leong told HLN's "Prime News."
His father, John Vang, and stepmother, Thong Vue, are facing charges of false imprisonment and child cruelty, Leong said. County jail records show the couple were released from police custody Saturday night.
Police were alerted to the alleged abuse Friday night when a person spotted the boy wandering the neighborhood with the chains still around his body, Leong said.
"We do believe there were at least a couple of occasions where he was both chained and assaulted by his father," Leong said.
Neighbor Jarel Todd told HLN that he heard a "really loud and intense" argument early Friday evening coming from the home, "but as soon as it started, it ended," and he didn't go out to investigate the noise.

Video: Chained teen escapes, parents arrested
Todd said he had seen the boy in the past playing outside in the yard, and said he was "shocked" by the news.
"We have a quiet neighborhood," he said.
Another neighbor told CNN affiliate KOVR that the boy had approached her, asking for a chain-cutter. Samantha Xiong said she was frightened by the situation and told the boy she didn't have anything to help him.
"He walked away slowly because of his chains," she said, adding later that she regrets not calling authorities.
Leong said the boy was able to get a key to one of the padlocks to the chains and managed to free himself after his parents left the home.
The boy was apparently being punished for stealing something from a relative's home, Leong said.
The boy's mother is caring for him now, but Child Protective Services "will review everything to make [a] final determination" of who will have ultimate custody, Leong said.

FOLLOW THIS TOPIC