Woman charged with DUI after daughter calls 911 from car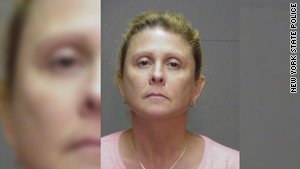 Police said Jamie S. Hicks' blood alcohol content was 0.18 percent, more than twice the legal limit.
STORY HIGHLIGHTS
A 13-year-old girl called 911 to say her mother was driving erratically
Car was stopped by the road when police arrived
Mother's blood alcohol level was more than twice the legal limit, police say
New York (CNN) -- A teenage girl "averted a tragedy" by calling 911 from inside a wildly weaving car to report her mother, who ended up being charged with drunken driving, New York State Police said.
Jamie S. Hicks, 48, of Islip, New York, was charged with felony driving under the influence and was released on bail, authorities said. She is due back in court August 17.
According to investigators, Hicks was behind the wheel of a 1995 Buick LeSabre Sunday evening, with her 13-year-old daughter and 10-year-old son as passengers.
The car was on I-84 near the Connecticut border when the daughter called 911, saying her mother was "weaving in and out of traffic," authorities said.
"Her initial call was that she was fearful [because] the mother was driving erratically and speaking incoherently, Capt. Robert Nuzzo of the New York State Police told CNN.
In a subsequent call to 911, "all the operator hears is an argument in the vehicle," Nuzzo added. The car was stopped on the side of the road when troopers arrived to investigate, Nuzzo said.
The daughter told the officers that her mother was intoxicated, police said. Hicks failed field sobriety tests and was taken in for processing, according to police, who said her blood alcohol content was 0.18 percent, more than twice the legal limit.
The audio recording and transcript of the girl's 911 call will not be released, said Adam Stiebeling, deputy commissioner of the Putnam County Bureau of Emergency Services.
Nuzzo praised the teen for her quick thinking. "She was a terrified young girl who made a conscientious decision to get her mother arrested," he said, "but it averted a tragedy."
FOLLOW THIS TOPIC