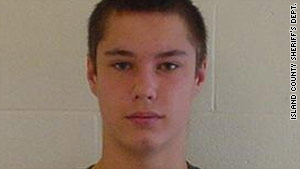 Colton Harris-Moore was sought in a string of home and airport break-ins in various U.S. locations.
STORY HIGHLIGHTS
A lawyer for the alleged "Barefoot Bandit" says his client does not want to be a role model
Colton Harris-Moore makes his first Washington appearance in federal court
His lawyer agrees that the teen should remain behind bars for the time being
Seattle, Washington (CNN) -- An attorney for alleged "Barefoot Bandit" Colton Harris-Moore on Thursday agreed with a request by federal prosecutors that the captured teen fugitive remain in prison -- for the time being -- and said his client does not want to be considered a role model.
Harris-Moore gained notoriety for allegedly stealing planes without a pilot's license and sometimes without shoes. His run from authorities ended on July 11 when he was captured in the Bahamas. Authorities there said he had flown 1,000 miles in a stolen plane from Indiana.
On Wednesday, Harris-Moore was returned on a U.S. marshals flight for federal prisoners to Washington state where he faces a dozen state charges including burglaries, identity theft and fleeing from police in a stolen automobile.
He also has been charged with the federal crime of piloting a stolen plane from Idaho to Washington state. If he is found guilty of the charge he could face 10 years in prison, according to the criminal complaint.

Video: Who is the 'Barefoot Bandit'?

Video: 'Barefoot Bandit' in Miami
At his initial appearance Thursday in U.S. District Court, dressed in a gray prison jumpsuit, the 6-foot-5-inch Harris-Moore was the tallest person standing as the courtroom rose for Magistrate Judge Brian Tsuchida. Harris-Moore's attorney, John Henry Browne, waived his client's right to a preliminary hearing and did not contest the prosecutor's request that the 19-year-old stay behind bars.
If a grand jury hands up an indictment in the case, Harris-Moore would next appear in court for his arraignment in which he would enter a plea. His attorney said he may ask the judge for bail.
Browne said he didn't ask for his client to be freed since multiple jurisdictions also suspect him of crimes, which would "start a traveling road show."
Following the hearing, Browne told reporters that his client was no role model, despite Facebook sites dedicated to him with thousands of fans.
"He was scared," Browne said Harris-Moore told him of what authorities say was two years ducking investigators and police. "It was not fun."
"He's very bright," Brown said, describing his client. "But probably not very mature."
U.S. Attorney Jenny Durkan said in a press conference following the hearing that investigators continue to look into Harris-Moore's alleged activities and he could face additional federal charges. She also said that anyone who helped him flee from authorities could face charges and that the following Harris-Moore generated was misplaced.
"There is nothing in the acts that should be admired or glorified," Durkan said.
However the case has spurred talk of book and movie deals and discussion of who would play Harris-Moore on screen.
Harris-Moore's mother, Pamela Kohler, hired an entertainment attorney to field requests for her story. But she was absent in court Thursday despite the fact she reportedly has not seen her son in over two years.
"She really wanted to be here," said her attorney, O. Yale Lewis. "But there was a mix-up with her ride."
FOLLOW THIS TOPIC