Deaths of mother, 4 children may be murder-suicide, police say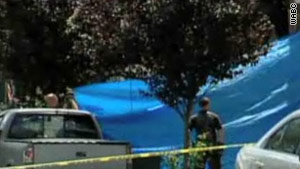 Police kept the scene covered as the bodies of the victims were brought out on Thursday.
STORY HIGHLIGHTS
Mother and children ages 14, 10, 7 and 2 died in the fire
At least three of them had cuts on their bodies, police say
Police commissioner says the 14-year-old had previously tried to set fires
New York (CNN) -- Police are investigating an early morning fire that left a mother and her four children dead Thursday as a possible murder-suicide, according to Police Commissioner Paul Browne.
Three of the children, ages 14, 10, and 7 were found with lacerations on their bodies, Browne said.
Police are performing an autopsy to determine if the mother, who was in her 30s, also suffered lacerations. The other sibling, a 2-year-old, did not have lacerations, police said.
All victims were found in the living room except the 14-year-old, who was found in a separate room with a straight razor under his body, Browne said.
The 14-year-old had been ejected from a swim club Wednesday for trying to ignite a fire and had started some small fires in the neighborhood last weekend, the police commissioner said.
Firefighters responded to the blaze shortly before 4:30 a.m., the fire department said.
The fire apparently began on the second floor of the multiple-family house and broke through the roof, fire officials said. The other residents of the home escaped uninjured, they said.