Top FARC commander sentenced to 27 years in cocaine conspiracy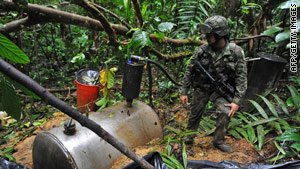 A Colombian soldier looks over part of a cocaine-making operation run by the rebel group FARC.
STORY HIGHLIGHTS
Top FARC commander was tried in the United States on cocaine trafficking conspiracy
FARC is designated by the United States as foreign terrorist organization
U.S. attorney: Jailing people like Aguilar Ramirez "helps to choke the international drug trade."
(CNN) -- A former front commander in Colombia's main leftist rebel group was sentenced to 27 years in prison Thursday for conspiring to import tons of cocaine into the United States, prosecutors said.
After being extradited to the United States in July 2009 on hostage-taking conspiracy charges, Gerardo Aguilar Ramirez acknowledged that he was the commander of a FARC unit that manufactured and distributed "ton quantities of cocaine, knowing and intending that the cocaine would be imported in the United States," according to a press release Thursday from the U.S. attorney for the Southern District of New York.
The Revolutionary Armed Forces of Colombia, or FARC, is designated by the U.S. State Department as a foreign terrorist organization.
Aguilar Ramirez was sentenced in a District of Columbia federal court.
The investigation, conducted under the auspices of the Department of Justice's Organized Crime Drug Enforcement Task Force Program, involved unprecedented cooperation from the Colombian government, the news release said.
"The incarceration of narco-terrorists like Aguilar Ramirez helps to choke the international drug trade," said Manhattan U.S. Attorney Preet Bharara. "This office will continue to work with our partners at the (Drug Enforcement Administration) to incapacitate dangerous narco-terrorists who seek to pour drugs into the United States."
Aguilar Ramirez was the commander of the "FARC's 1st Front" and was ultimately responsible for all of that front's criminal activities, the news release said.
Aguilar Ramirez "violently commanded the 1st Front for over 10 years until his arrest," said DEA Special Agent John P. Gilbride. "He will pay for his crimes against American and Colombian citizens who have seen the damages of cocaine trafficking and abuse throughout both our nations."
FOLLOW THIS TOPIC