Blagojevich defense rests without calling former governor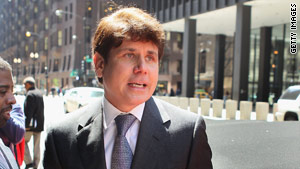 Former Illinois Gov. Rod Blagojevich did not testify in his own defense at his corruption trial.
STORY HIGHLIGHTS
NEW: Wall Street Journal reporter arrested at trial
Blagojevich: "It is my decision, on the advice of my attorneys, not to testify in this case"
Closing arguments are set to begin Monday in a Chicago federal courtroom
He has professed his innocence in a variety of public venues
Chicago, Illinois (CNN) -- Testimony in the federal corruption trial of Rod Blagojevich wrapped up Wednesday without the ousted Illinois governor taking the stand in his own defense.
After months of professing his innocence in impromptu news conferences, on Twitter and even on Donald Trump's show "Celebrity Apprentice," Blagojevich's testimony had been highly anticipated. But his lawyers rested their case Wednesday morning, and closing arguments are set to begin Monday.
"It is my decision, on the advice of my attorneys, not to testify in this case," Blagojevich announced in court.
The two-term Democrat was removed from office in January 2009 amid accusations that he had attempted to sell the U.S. Senate seat that had been occupied by Barack Obama before he became president. In one conversation recorded by federal agents, he told an aide, "I've got this thing and it's [expletive] golden. I'm just not giving it up for [expletive] nothing."
His brother, Robert Blagojevich, testified Tuesday that the governor was "trying to politically work something to his benefit" in handling the appointment -- but was thinking in terms of political horse-trading, not corruption.
"It didn't seem out of the ordinary, because Obama was taking a lot of people from Illinois with him to D.C.," said Robert Blagojevich, who raised money for his brother. He said the governor "was interested in the idea of being the head of Health and Human Services."
But prosecutors argued that Blagojevich and his inner circle engaged in a near-constant conspiracy of extortion and kickbacks after his 2002 election.
Meanwhile, a Wall Street Journal reporter was arrested, placed in handcuffs, and later released after attempting to interview Blagojevich's defense attorneys at the federal building where the trial was taking place.
John O'Malley, a spokesman for the U.S. Marshal's office, said the reporter "was warned numerous times not to conduct the interview," and "there was a physical and verbal exchange between the individual and the marshal."
The news organization confirmed its reporter, Doug Belkin, was involved, and said it strongly protested the arrest.
"Doug Belkin was wrongfully arrested and charged with petty offensives for nothing more than routine newsgathering," said Danielle Rhoades, from the Dow Jones Communications Department. "We stand behind our reporter and will aggressively fight these unfounded charges."
O'Malley said the charges could include assault against a federal marshal as well as contempt of court for violating guidelines for the building.
FOLLOW THIS TOPIC