No link between deaths of waitress, EMT accused of neglecting her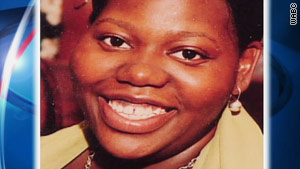 Eutisha Rennix died in December after collapsing at a Brooklyn cafe where she was working.
STORY HIGHLIGHTS
Police say they "never suspected a connection" between the two deaths
Rennix's mother sends condolences to Green's family
Police will release video they believe shows the suspect in Green's shooting
New York (CNN) -- New York police said Monday that there is no connection between the death of EMT worker Jason Green on Sunday and the December death of waitress Eutisha Rennix.
"We have never suspected a connection there, then or now," said New York City Police Department spokesman Paul Browne, adding that "we've found no connection and no relationship between the two deaths."
Green was shot and killed Sunday morning outside of a downtown Manhattan nightclub, police said.
The police would not comment initially on whether Green's death was in any way connected to the death of Rennix, who collapsed while working at an Au Bon Pain cafe in Brooklyn on December 9, and later died at Long Island College Hospital.
Rennix's co-workers said Green and another EMT were in the cafe at the time of her collapse, but reportedly left after telling Rennix's co-workers to call 911.
Rennix's mother, Cynthia Rennix, said she was told that her daughter's co-workers tried to get the two EMTs to help, but they refused, according to CNN affiliate NY1.
Cynthia Rennix said that she had never met Jason Green and that her family had nothing to do with his death.
"As a mother, I know what it feels like to lose a child," said Rennix, adding "we have nothing to say except to send our condolences" to Green's family.
Browne said the investigation into Green's death is ongoing and that they would release surveillance footage later Monday that shows possible suspects driving away from the scene.
"We believe the surveillance shows the assailant. We weren't able to get a video of the car," Browne said adding that the assailant had sped away in a BMW with two other men.
Robert Ungar, a spokesman for the Uniformed EMTS and Paramedics with the New York City Fire Department, said that the organization was awaiting the outcome of the police investigation.
"We're hopeful that the police will complete their apprehension," Ungar said.
FOLLOW THIS TOPIC