Death of Texas mayor ruled suicide, daughter's death homicide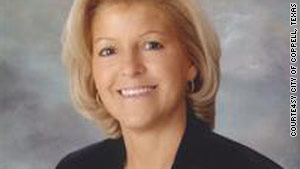 Police in Coppell, Texas, are investigating the deaths of Mayor Jayne Peters and her daughter.
STORY HIGHLIGHTS
NEW: Police find four notes at mayor's home but don't reveal contents
NEW: Deputy chief says it appears "there had been some thought behind all this"
Mayor, daughter both die of gunshot wounds, says medical examiner
Corinne Peters, 19, planned to go to college this fall
(CNN) -- Police in a Dallas, Texas, suburb indicated Wednesday that the town's mayor likely killed her daughter before turning the weapon on herself.
The Dallas County Medical Examiner's Officer ruled Wednesday that the mayor's death was a suicide and her daughter's a homicide.
Coppell Mayor Jayne Peters, 55, and her daughter Mary Corinne Peters, 19, were found dead Tuesday evening by officers who had been sent to check on the family's welfare. The officers had gone to the home at the request of the city manager's office after the mayor did not show up for a scheduled council meeting.
"Earlier this afternoon, we received word from the Dallas County Medical Examiner's Office that they had made a ruling in the deaths involving Mayor Peters and her daughter Corinne," said Coppell Deputy Chief Steve Thomas. "The pathologist advised that their ruling was that this was a homicide-suicide, which will change the focus of our investigation."
CNN affiliate KTXA reported from a police briefing that officers found an envelope containing a note and a key to the two-story house on the front door and three other notes inside the house. Thomas said that "it appeared to me there had been some thought behind all of this."
The Dallas Morning News said the outside note warned officers of what they would find inside. Police told the News the notes gave no clues as to what led to the shooting but rather provided instructions on, among other things, how to care for the family's pets. Two dogs were found in the house, the newspaper reported.
Friends and relatives told the News that Corinne was planning to attend the University of Texas in Austin.
Officers found Corinne Peters on the first floor of the house and the mayor upstairs, KTXA reported.
"This [medical examiner's ruling] is obviously an important part of the investigation, but certainly it is not complete until the detectives here at the police department have the opportunity to go ahead and follow up any and all investigative leads they come across," Thomas said.
The house's front porch became a makeshift memorial of flowers and notes.
The medical examiner's office said that Mayor Peters died of a "contact gunshot wound to the head," and her daughter died of a "gunshot wound to the neck and head."
Peters was elected mayor in May 2009 and had been a member of the city council since 1998. Her husband died of cancer in January 2008.
Logan said that Peters' death is a "tremendous loss both personally and professionally."
"She was very pleasant, very professional, one of the most wonderful people I had ever encountered," she told KTXA.
Coppell, 16 miles northwest of Dallas, has a population of 39,000.
CNN's Tracy Sabo contributed to this report.