Former Detroit mayor arraigned on 19 federal charges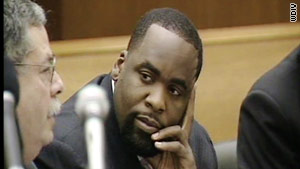 Ex-Detroit Mayor Kwame Kilpatrick is facing a possible 20-year sentence for the latest charges.
STORY HIGHLIGHTS
NEW: Former Detroit Mayor Kwame Kilpatrick was arraigned on 19 counts of felony fraud and tax charges
NEW: A not guilty plea was entered on his behalf
NEW: Kilpatrick told the court he could no longer afford an attorney, a court spokesman says
NEW: "We hope his constitutional rights are seen as equal," Kilpatrick's spokesman says
Kilpatrick is already in jail for a probation violation on another charge
(CNN) -- Former Detroit, Michigan, Mayor Kwame Kilpatrick was arraigned in federal court Tuesday on 19 counts of felony fraud and tax charges, a court official said.
Wearing an orange prison jump suit and shackled at the ankles, Kilpatrick was led by police into a packed court room along with several other prisoners.
The former mayor told the court that he is no longer able afford a lawyer and asked for a court-appointed attorney, Eastern Michigan District Court spokesman Rod Hansen told CNN. A not guilty plea was entered on his behalf, Hansen added.
U.S. Magistrate Judge Donald Scheer referred Kilpatrick's request to federal defenders.
"There's an indication that the federal defender will permit James Thomas to continue to represent" Kilpatrick, said Hansen. Thomas, who is also a federal panel attorney, has long represented Kilpatrick.
The former mayor then consented to detention, which means he will presumably be moved to a federal prison if convicted on the federal charges -- which could put Kilpatrick in prison for 20 years, prosecutors said.
"We hope he gets a fair chance and his constitutional rights are seen as equal to anybody else," the former mayor's spokesman Mike Paul told CNN. "That's what [Kilpatrick] has asked for from the beginning," he added.
The former mayor is accused of using the Kilpatrick Civic Fund -- a tax-exempt fund meant to pay for voter education -- to make cash payments to himself, his family and friends.
The charges stem from an alleged scheme in which Kilpatrick used donations to the fund to pay for such personal expenses as yoga and golf lessons, and campaign expenses in his 2001 and 2005 bids for mayor, according to the indictment.
Kilpatrick had claimed the fund would go toward community services and voter registration information, the indictment says.
The former Detroit mayor is currently serving a maximum five-year sentence in a Michigan state prison for violating probation in a 2008 case against him. That case involved two felony counts of obstruction of justice stemming from Kilpatrick's efforts to cover up an extramarital affair.
He also pleaded no contest to charges of assaulting a police officer attempting to serve a subpoena on one of his friends in that case.
FOLLOW THIS TOPIC