3 dead in New Mexico business shooting, police say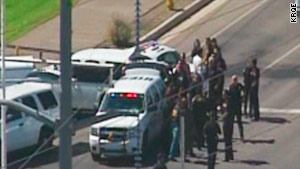 Some 85 employees who were inside the building at the time of the shooting were interviewed before being released.
STORY HIGHLIGHTS
Officers responding to 911 call find 10 people shot
Three were dead -- one of them believed to be the shooter
Albuquerque police believe it was a domestic violence situation that spilled into workplace
One of victims believed to be wife or girlfriend of shooter, police say
(CNN) -- New Mexico authorities said a former employee shot and killed two people at a business Monday in Albuquerque before turning the gun on himself.
Police said officers responded to a 911 call at 9:26 a.m. (11:26 a.m. ET) that multiple shots had been fired. When officers entered the building, they found a total of 10 people shot -- three were dead, including a man believed to be the shooter, officials said.
Police said after the incident that six people had died in the shooting, then Monday afternoon revised the toll to three dead. Police said there had been miscommunication among officers and emergency personnel in the first counting.
"We believe this incident to be a domestic-violence workplace situation," Albuquerque Police Chief Ray Schultz said.

Video: 3 die in New Mexico shooting
"One of the victims -- a current employee at Emcore Corp -- is believed to be the wife or girlfriend of the shooter," Schultz said. Police officials have since corrected earlier reports identifying the shooter as a female.
Police also said that they have located the children of the offender and one of his victims. Schultz would only say that the children are "OK."
"We've got the neighborhood secured," Schultz said. Because of the large size of the Emcore facility, authorities were sweeping the area a second time. "We're looking under every desk, every closet, any place anyone could be concealed," Schultz told reporters.
Police are continuing the investigation at a community center near Emcore Company facility where some 85 employees who were inside the building at the time of the shooting are being interviewed before being released.
A website for the Emcore Corporation describes its business as fiber optics and solar power technology.
CNN's Melanie Whitley contributed to this report.