Alleged Russian spies ordered to New York for arraignment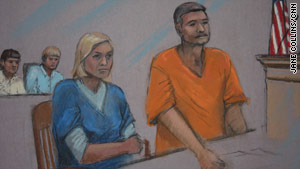 Donald Heathfield and Tracey Ann Foley appeared in court in Boston, Massachusetts.
STORY HIGHLIGHTS
NEW: Arraignment for all suspects in the Russian spy ring case is scheduled for Thursday in New York
10 suspects were arrested in the United States in the spy plot
Human rights activist says convicted Russian spy might be traded for some suspects in U.S.
(CNN) -- Federal judges in Virginia and Massachusetts on Wednesday ordered five suspected Russian secret agents to be moved to New York for an arraignment hearing with five other suspects in the case.
A federal judge in Alexandria, Virginia, on Wednesday ordered that Russian spy ring suspects Mikhail Semenko, Michael Zottoli and Patricia Mills be moved to New York "promptly," according to court documents. Suspects Donald Heathfield and Tracey Ann Foley, currently being held in Boston, Massachusetts, also will be moved to New York, a federal judge there ruled.
A senior law enforcement official later said all five of the suspects were being transferred to New York by the U.S. Marshals Service.
In New York, the U.S. Attorney's office announced an arraignment hearing for the five out-of-state suspects and five others arrested at the same time in New York would take place Thursday.
Zottoli and Mills have admitted that they are Russian citizens and have been living as a couple under false identities in Virginia, investigators say. Prosecutors said that they made the admissions soon after being arrested and authorities have found evidence to support that information.
Semenko is accused of aiding the plot by allegedly conducting private wireless computer links to communicate with a Russian government official, court documents said.
In all, 10 suspects were arrested in the United States in connection with the alleged spy plot in late June. An 11th suspect was detained in Cyprus and released on bail. His whereabouts are unknown.
Meanwhile, a human rights activist has raised the possibility that a Russian researcher convicted of spying for U.S. intelligence services could be exchanged for one of the spy suspects in the United States.
Ernst Chyorny, a member of the Public Committee in Defense of Scientists in Russia, told CNN on Wednesday that the mother of Igor Sutyagin, the convicted Russian spy, told him about the development.
Earlier on Wednesday, Russian news agencies also reported that Sutyagin may be swapped along with other individuals in exchange for the people suspected of spying for Russia and detained in the United States.
FOLLOW THIS TOPIC