Alleged bike riding bank robber was a soccer exec, police say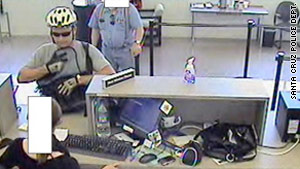 Police in Santa Cruz, California, released this photograph of one of the bank robberies.
STORY HIGHLIGHTS
Alleged serial bandit was scoccer team manager
Police said he rode bike during robberies
Apprehended when dye pack explodes in front of officer
(CNN) -- A suspected bicycle-riding serial bank robber once ran a professional indoor soccer team, a police official in northern California says.
Hubert Rotteveel, 47, of Dixon, California was arrested on his bike Wednesday afternoon after allegedly robbing two banks in just over an hour, said Sgt. Anthony Cucchi of the Woodland Police Department. Woodland is the county seat of Yolo County, California and is located about 15 milest northwest of Sacramento.
"He's been a long time resident of Dixon," Mayor Jack Batchelor, Jr., said of Rotteveel. "He was the general manager for the Sacramento Knights, a professional soccer team that is no longer active."
His alleged crime spree came to an end this week.
The robber pedaled up to the River City Bank in Woodland shortly before 2 p.m. Wednesday, police said. Wearing black clothing, sunglasses and a white bicycle helmet, he held tellers at gunpoint and demanded money before fleeing on a bike, authorities said.
At approximately 3 p.m., the First Northern Bank in West Sacramento was robbed by a bike-riding bandit.
"As he's fleeing that bank on his bicycle," Cucchi said, "he passes a police officer from West Sacramento and the dye pack (in the stolen money) in his bag explodes in front of the officer.
"He tries a quick getaway and the officer gets right on him and apprehends him," Cucchi said.
Rotteveel was being held at the Yolo County jail with bail set at $200,000, authorities said.
Authorities believe the suspect may be linked to several armed bank robberies in northern California, including one in Santa Cruz on Monday afternoon.
"I know the family and I was saddened by the situation and it's unfortunate," Mayor Batchelor said. "It's something that's obviously going to go through the courts at this point."