Police link Virginia student slaying, 2005 sex assault
STORY HIGHLIGHTS
Fairfax case linked to 2009 Morgan Harrington killing
Police are circulating sketch from '05 case after new evidence links cases
Harrington's father says sketch gives him a target for anger
Harrington was found dead this year after disappearing in October
(CNN) -- Forensic evidence links the cases of a Virginia Tech student believed slain in October and the kidnapping and sexual assault of another woman four years earlier, state police announced Thursday.
The surviving victim was able to provide a description of her attacker to police, and detectives have begun circulating anew a sketch developed from her recollection. Investigators have asked the public to help find the suspect in that abduction, which took place in 2005 in Fairfax, Virginia, outside Washington.
The announcement is a new turn in the 2009 killing of Morgan Harrington, a 20-year-old student at the Virginia Tech, and her parents told HLN's "Issues with Jane Velez-Mitchell" that they had mixed emotions about the news.
"It's hard to say that you're happy about an obscenity," her mother, Gil Harrington, said Thursday night. "But in effect, we were happy that we were one step closer to finding and apprehending this vicious predator and getting him off the streets."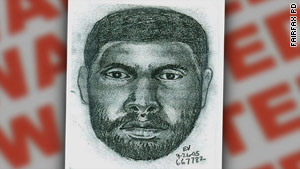 A sketch of a suspect in two Virginia crime cases that have been linked has been released.
Harrington's father, Roanoke psychiatrist Dr. Dan Harrington, said the emergence of a suspect's sketch has made him angry, "maybe for the first time."
"Obviously, we know Morgan was murdered, but it was an abstraction," he said. "There was no one that you could put a face to. But today, there's the concrete picture of this man, and it seems to me that for the first time, anger became way more of a prominent emotion for me."
Harrington disappeared October 17 after a rock concert at the University of Virginia's John Paul Jones Arena in Charlottesville, and her skeletal remains were found by a nearby farmer in January.
Virginia state police did not disclose details of the forensic evidence that links her case to the attack in Fairfax, about 80 miles away. But the Washington Post, citing unnamed sources, said the cases are linked by a DNA match.
Police warn that because the sketch is five years old, the person it depicts may have changed his appearance.
Gil Harrington, a nurse, said her daughter's case shows that "the social framework that views women as prey" needs to be changed.
"It is something that I think you have to start from young ages with children, that you're training them not to beat up and not to act out," she said. "But you would think in 2010 that we would be working on issues of cherishing and upholding each other in relationships rather than can we just stop hurting each other. But unfortunately, that's where we're stuck. We have to disallow it."
FOLLOW THIS TOPIC