Warrants served on doctors, pharmacies linked to pro sports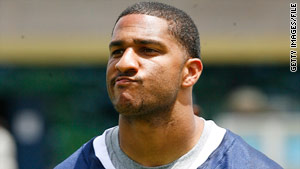 San Diego Chargers safety Kevin Ellison was arrested last month with 100 hydrocodone pills allegedly in his possession.
STORY HIGHLIGHTS
DEA warrants target doctors, pharmacies linked to teams
Records associated with San Diego Padres, Chargers checked
Investigation stems from arrest of former Chargers player, source says
No charges or indictments filed
(CNN) -- The Drug Enforcement Administration has served 10 "administrative inspection warrants" at pharmacies and on physicians affiliated with the San Diego Chargers football and San Diego Padres baseball teams as part of an ongoing investigation, the agency said.
The warrants were executed Tuesday "in an attempt to verify the correctness of controlled substance inventories, records, reports and other documents required to be kept under the Controlled Substances Act and for the purpose of protecting the public health and safety," DEA spokeswoman Amy Roderick said in a statement.
"As a registered individual with the Drug Enforcement Administration, these physicians and pharmacies are required to keep complete and accurate records of all controlled substances received, prescribed, dispensed, purchased, delivered or otherwise disposed of," she said.
The physicians under review are "affiliated" with the Chargers and the Padres, she said.
"This is an on-going investigation. Currently, there are no administrative charges, criminal charges or indictments pending for any of the physicians or pharmacies where the warrants were served."
No further information was released. But a source told CNN affiliate KGTV the investigation stems from the arrest last month of former Chargers safety Kevin Ellison.
Ellison was pulled over by Redondo Beach, California, police, on May 24 for allegedly speeding in a school zone. "A search of Ellison's vehicle revealed 100 tablets of hydrocodone, which is also known as Vicodin," police said at the time. Ellison was booked into Redondo Beach Jail on suspicion of possession of a controlled substance and was released on $10,000 bond. He is set to appear in court July 7.
Ellison declined to comment Tuesday to KGTV, saying he was in the middle of the legal process. He was released by the Chargers several weeks ago, but has since signed with the Seattle Seahawks.
"In regards to the ongoing investigation involving Kevin Ellison, the Vicodin in Kevin's possession was not provided by the Chargers, its physicians or anyone affiliated with the team," the Chargers told KGTV in a statement Tuesday night.
Padres spokesman Warren Miller told the station that team officials were "fully cooperating with the DEA, and have been advised that none of our players is the subject of this investigation." The team will not comment further, he said, citing the ongoing investigation.
FOLLOW THIS TOPIC