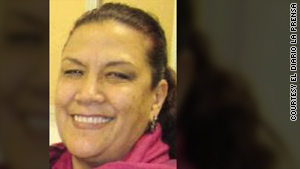 Vicky Pelaez is shown here in a file photo from El Diario's website.
STORY HIGHLIGHTS
New York journalist Vicky Pelaez one of 11 arrested as alleged agents
Pelaez, 55, was controversial TV reporter in 1980s in Peru
She and cameraman were captured by rebels in 1984, freed after video aired
Pelaez and husband exchanged messages with Russian contacts, FBI says
(CNN) -- One of the 11 people arrested Monday and Tuesday and accused of being secret agents for Russia is no stranger to controversy.
Vicky Pelaez, 55, is known for her leftist writings as a columnist for El Diario La Prensa, the largest Spanish-language daily newspaper in New York, as well as other publications. She has been a strident supporter of former Cuban President Fidel Castro and Venezuelan President Hugo Chavez.
The website of the Centre for Research on Globalisation, a Canadian organization opposed to globalization and the "new world order," ran an article by Pelaez in 2008 about the use of U.S. prison inmates as cheap labor.
Pelaez, one of the few women journalists in Peru in the 1980s, was a colorful reporter for Frecuencia Latina, Channel 2, in Lima. The magazine Teleguia called her "the most aggressive journalist on TV."

Video: The art of espionage

Video: Reaction to alleged spy ring

Video: Inside the alleged spy ring

Video: Spies in New York?
Pelaez had a reputation for sensationalism and inserting herself into stories, said CNN journalist Claudia Rebaza, who grew up in Peru.
"She was a peculiar, controversial character in the '80s," Rebaza said. "In every story she was involved, there was drama."
Pelaez's husband, anthropologist Juan Lazaro (who also was arrested Monday), quoted her as a "leading Peruvian journalist" in a scholarly article he wrote titled "Women and Political Violence in Contemporary Peru" in the journal Dialectical Anthropology in 1990.
Many observers questioned an incident involving Pelaez and cameraman Percy Raborg, who were kidnapped by the Peruvian rebel group MRTA in December 1984. According to the final report of Peru's Truth and Reconciliation Commission, MRTA demanded that Channel 2 air a propaganda video in exchange for the journalists' release.
The station initially refused, but within hours, it backed down and broadcast the video. Pelaez and Raborg were released a short time later.
Pelaez subsequently left Peru for the United States and has worked at El Diario for 20 years. She is a U.S. citizen, according to the FBI complaint.
Her husband, Lazaro, "purports to be a citizen of Peru, born in Uruguay," the complaint says. He studied at New York's New School for Social Research, according to his profile in the book "Women and Revolution: Global Expressions," for which he was a contributing author.
The FBI alleges that Pelaez received a package of money in 2000 in a park "in a South American country" from a representative of the Russian government. It says Lazaro received money, in the same park, from a Russian government official in 2007.
The FBI also alleges that the couple received encoded radio messages in their home from a Russian connection. The complaint also contends that during the 2007 meeting, Lazaro passed messages to his Russian contact written in invisible ink.
Five of the suspects, including Pelaez, appeared in court Monday. She and three others have been ordered held and will face another court appearance on Thursday.

CNN's Derrick Ho and Claudia Rebaza contributed to this report.
FOLLOW THIS TOPIC