Father of missing Oregon boy files for divorce
STORY HIGHLIGHTS
Father of missing Oregon boy files for divorce from child's stepmother
Kaine Horman cites 'Irreconcilable' differences, requests retraining order
Stepmother Terri Horman says she last saw the 7-year-old at his school
(CNN) -- The father of a missing Oregon boy has filed a petition for divorce from the child's stepmother, who appears to be the last person to have seen the 7-year-old before he disappeared.
Kaine Horman filed the petition for dissolution of marriage from Terri Horman on Monday with the Multnomah County Circuit Court, records showed.
Kaine Horman cited irreconcilable differences as the cause for the end of their marriage, according to the court documents.
He also requested a restraining order against Terri Horman, the records revealed.
Terri Horman told investigators she last saw Kyron Horman, 7, inside his Portland elementary school June 4, according to police.
The Multonmah County Sheriff's Office would not discuss Kaine Horman's decision to file for divorce and seek an order of protection.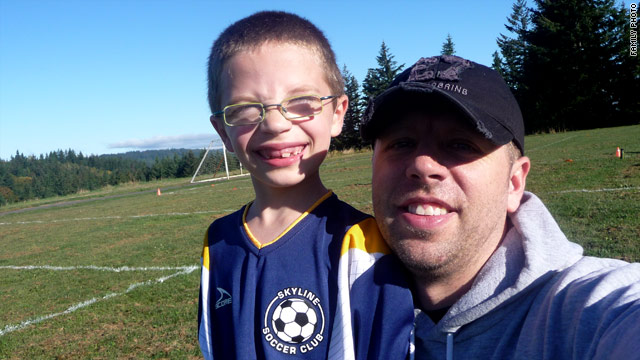 Gallery: Missing boy in Oregon
If you have any information on Kyron Horman, the Multnomah County Sheriff's Office asks that you call 503-261-2847.
"It's a personal matter between family members and we don't get involved in those," sheriff spokeswoman Lt. Mary Lindstrand said. "Nothing has changed in the investigation. It's still ongoing. No persons of interest or suspects have been named at this time."
Authorities have asked anyone who was at the school that day if they saw Terri Horman.
Kaine Horman joined Kyron's biological mother, Desiree Young, and her husband, Tony Young, in issuing a statement late Monday evening.
"We have been fully briefed by law enforcement on the ongoing criminal investigation," the statement said. "We are in complete support of that investigation."
"Any actions taken by the investigation or by us are based on the best interests of Kyron ... and comply with the law," the statement continued. "Beyond this, we have no comment on the matter."
Kyron was wearing dark cargo pants and a black T-shirt with the "CSI" logo on it at the time of his disappearance. He is 3-foot-8, weighs 50 pounds and has brown hair and blue eyes.
Anyone with information in the case is asked to call the Multnomah County Sheriff's Office.
FOLLOW THIS TOPIC