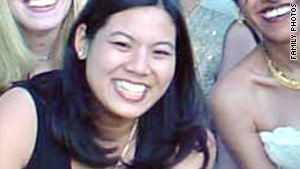 The boyfriend of Jamie Laiaddee said he last saw her after they argued and broke up on March 17.
STORY HIGHLIGHTS
Jamie Laiaddee last seen March 18
Disappearance not reported for 10 weeks
Boyfriend found driving Laiaddee's car, using her credit cards, police say
"We fear that she could be dead," police spokesman says
(CNN) -- The boyfriend of a missing Arizona woman is being held without bond on fraud and other charges while police seek additional information into his girlfriend's disappearance, Chandler police said Tuesday.
Jamie Laiaddee went missing from the home she shares with her boyfriend in the early morning hours of March 18, police said.
At first, friends and family didn't think too much about the lapse in communication with their loved one -- the 32-year-old Laiaddee usually got in touch with them every few weeks and it was not uncommon for her to go months without calling her parents, according to Chandler police spokesman Sgt. Joe Favazzo.
It wasn't until 10 weeks later, on May 28, that Laiaddee's father officially reported her missing to police after learning of his daughter's disappearance from her boyfriend of three years -- identified by Chandler police and friends as Bryan Stewart.
Upon searching the couple's home, authorities found Laiaddee's car, purse, keys and other personal effects.
As part of their investigation, authorities also discovered that Stewart had been living under a false name for the past eight years. His real name is Rick Wayne Valentini and he is 41, Favazzo said.

Video: Search for Arizona woman
Court documents refer to Valentini by his assumed name.
Stewart was apprehended by police at a Scottsdale apartment after investigators learned he had an outstanding traffic-related arrest warrant. When he was found, he was "in possession of a vehicle owned by Jamie," according to police.
Stewart, who police said is the last person to see Laiaddee, told investigators that he and Laiaddee had an argument on March 17 and broke up after she told him she was taking a new job in Denver, Colorado, Favazzo said.
"At this point we have no evidence whatsoever to indicate Jamie" planned to leave, "and certainly not to Colorado," Favazzo said.
Police said Stewart had been driving Laiaddee's car and using her credit cards in the weeks after her disappearance.
He is being held without bond in the Maricopa County jail on charges of credit card fraud, theft of credit cards, probation violation, identity theft, weapons violations and an outstanding warrant, according to police.
"Investigators are now focusing on Stewart/Valentini as a person of interest in the disappearance of Jamie Laiaddee," according to a Chandler Police Department news release about the case.
Favazzo said Tuesday that police "don't believe Jamie just dropped off the grid."
"We suspect foul play at this point and we fear that she could be dead," he said, adding that authorities are imploring the public for any leads to Laiaddee's whereabouts.
Friends of Laiaddee's who have set up a Facebook page to raise awareness about her disappearance describe the 1999 University of Michigan graduate as "bubbly," "outgoing" and "fiercely loyal."
"We are devastated by the news," friend Sheila Dubs told HLN's "Issues with Jane Velez-Mitchell" on Tuesday.
CNN's Sarah Aarthun contributed to this report.
FOLLOW THIS TOPIC