Mom's letter to missing boy: 'I miss having you to hug'
STORY HIGHLIGHTS
Photos show missing Oregon boy bowling, roasting marshmallows, playing in pool
Kyron Horman disappeared June 4, was last seen at his Portland elementary school
Mom's open letter: "I would give anything to run my fingers through your short hair"
Call police at 503-261-2847 if you have information on the 50-pound, blue-eyed youngster
(CNN) -- The family of Kyron Horman has released home videos and photographs of the missing Oregon boy.
The photos show the 7-year-old child in a pool, at a bowling alley and roasting a marshmallow over a campfire, among other settings.
In home videos, also provided by the family late Thursday, Kyron is seen whistling with other schoolchildren and reading from a class project.
Kyron vanished June 4. His stepmother, Terri Horman, said she last saw him walking down a hallway toward class at Skyline Elementary School in Portland, police said.
The Multnomah County Sheriff's Office has asked anyone who was at Skyline Elementary on the day Kyron disappeared if he or she recalled seeing his stepmother at the school.
No person of interest has been named in connection with what police have called a criminal investigation.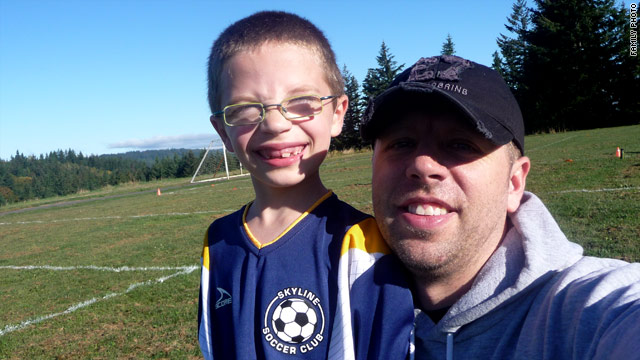 Gallery: Missing boy in Oregon

Video: Where is Kyron Horman?
If you have any information on Kyron Horman, the Multnomah County Sheriff's Office asks that you call 503-261-2847.
The search effort for Kyron has been one of the largest in state history, authorities said.
In an open letter to Kyron, the boy's mother, Desiree Young, wrote, "I would give anything to run my fingers through your short hair again."
She continued, "I miss having you to hug anytime I want. Nighttime is always hard for me. I miss you so much and want you back here so that I can protect you from all of the horrible things in this world. I just can't believe that you aren't still with us."
Police continue to ask the public for tips and leads in locating the boy.
Kyron was wearing dark cargo pants and a black T-shirt with the "CSI" logo on it at the time of his disappearance. He is 3 feet 8 inches, weighs 50 pounds and has brown hair and blue eyes.
Anyone with information is asked to call the Multnomah County Sheriff's Office at 503-261-2847.
FOLLOW THIS TOPIC