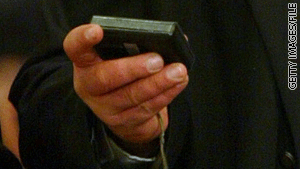 As long as officers paid overages on their devices, the city's "informal policy" was hands-off about privacy, plaintiff said.
STORY HIGHLIGHTS
Case involves police officer's private messages
Search involved "legitimate work-related purpose," court finds
Suggests same rule could apply to private business as well
Experts divided on private-sector impact
Washington (CNN) -- Worried your boss may be checking your private messages on state- or company-issued communcation devices? The Supreme Court strongly suggests buying your own pagers and cellphones.
The justices Thursday unanimously concluded that state officials had the right to review the records of a California police officer who exchanged hundreds of personal messages -- some of a "sexually explicit" nature -- on his department-owned text pager.
"Because the search was motivated by a legitimate work-related purpose, and because it was not excessive in scope, the search was reasonable," Justice Anthony Kennedy said in announcing the court's decision.
At issue was how far a government employer may go to monitor the private communications of its workers when they believe the equipment is being abused. And while the case before the court dealt with government workers, the court suggested that under the same set of facts, its ruling would apply to all workers -- public or private.
"The court also concludes that the search would be regarded as reasonable and normal in the private-employer context," Kennedy said. But legal and technology experts are divided over its application in the private sector, where employees may enjoy less constitutional protection.
The court was skeptical of Ontario police Sgt. Jeff Quon's claim that his privacy was violated over messages exchanged with his wife, his girlfriend and a fellow officer on his official wireless two-way text-messaging pager.
For the justices, the case came down to defining the limits of "reasonable." The state "did not violate Quon's Fourth Amendment rights," they concluded.
Courts have previously said private communications-- even when delivered or transmitted through a public portal -- are generally protected from "unreasonable search and seizure," such as handwritten letters sent in sealed envelopes sent through the U.S. Postal Service.
The court sidestepped the larger question whether there was a general "expectation of privacy" enjoyed by public workers.
"The judiciary risks error by elaborating too fully on the Fourth Amendment implications of emerging technology before its role in society has become clear," wrote Kennedy, on the majority's cautious approach.
The police department in Ontario, about 40 miles east of Los Angeles, had a "Computer Usage, Internet and E-mail Policy" that allows workers only limited use for personal communications. Quon signed a statement acknowledging that "use of these tools for personal benefit is a significant violation of city of Ontario policy" and that "users should have no expectation of privacy or confidentiality when using these resources."
Because the search was motivated by a legitimate work-related purpose, and because it was not excessive in scope, the search was reasonable.
--Justice Anthony Kennedy
Quon, a SWAT team sergeant, claimed he was unaware the city's overall policy applied to the department, and said there was an "informal policy [that] allowed officers to maintain their privacy in their text messages as long as they paid the overage charges."
The city's contract with Arch Wireless-- now known as USA Mobility-- imposed a 25,000-character limit per month, per device, before overage charges kicked in. Quon acknowledged he exceeded the limit several times and paid the extra charges out of his personal funds, as required by his bosses.
Both sides agree Quon's supervisor grew "tired of being a bill collector" to his text-happy officers, and the chief of police ordered a review of the pager transcripts for the two officers with the highest overage, one of whom was Quon. Officials argued they did that only "to determine whether the city's monthly character limit was insufficient to cover business-related messages."
It was only in reading the transcripts voluntarily provided by Arch Wireless from its electronic archives that the often-racy messages were revealed, prompting an internal department investigation. A review of one month found Quon had sent and received 456 personal messages while on duty, an average of 28 per shift, with only three per shift deemed work-related.
A federal judge characterized many of the messages as not "light personal communications," as defined in the policy as generally acceptable, but ones that were, "to say the least, sexually explicit in nature."
Quon sued the wireless company and the city for invasion of privacy. That suit will likely be dismissed by lower courts, and Quon now could face possible disciplinary action.
The court's narrowing of protection for private workers may now lead to more lawsuits and a new round of appeals over what privacy limits are permissible in the general workplace. Justice Antonin Scalia agreed Quon's rights were not violated, but expressed concern the court was reaching too far in determining when searches of employer-issue pagers are ever permissible.
Several dozen groups -- representing a range of business coalitions and privacy rights advocates -- filed briefs to the court, signifying its importance in the expanding legal frontier of the digital age. The high court had earlier rejected hearing a separate appeal from Quon over whether service providers can be held liable for providing those communications to the employer without the consent of the sender.
The case is City of Ontario, California, v. Quon (08-1332).
FOLLOW THIS TOPIC